! CONCORDIA'S THURSDAY REPORT ON-LINE> <! September 23rd, 99 Issue> <! Site Designede and Developed by: S. Mehrad B.Eng. For comments and problems contact: technical@mehrad.qc.ca> <! http://www.mehrad.qc.ca>



<! ________________________________________________________________________________>
Student enrolment is up -- especially from afar
C

oncordia seems to be bursting at the seams this fall, as enrolment climbs. Registrar Lynne Prendergast reports that the increase in undergraduate students as of September 13 is 2.8 per cent, 590 more students than last year.

That is an overall head count; if you count only the full-time students, the increase jumps to 4.9 per cent. In terms of full-time enrolment, Fine Arts and Arts and Science show small increases, while Commerce and Administration is up by 4.3 per cent and Engineering and Computer Science by 12.1 per cent. Figures for graduate students take longer to come in, but they appear to be up as well.

More international students than ever are choosing to come to Concordia, an increase in enrolment of 24 per cent over this time last fall. The increase extends to all Faculties, and to both graduate and undergraduate students.

International degree students in undergraduate programs are up by 39.4 per cent in Arts and Science, 19.9 per cent in Commerce and Administration, 26 per cent in Engineering and Computer Science, and 26.5 per cent in Fine Arts.

Last year, there were 1,137 international students at Concordia, of whom 277 were exchange students. The rest, 840 students, were doing their whole degree program here.

This year, there are a total of 1,408 students, of whom 335 are on exchange and 1,079 are taking their full degree.

Balbir Sahni, Director of the Centre for International Academic Co-operation (CIAC), said, "Clearly, this quantum leap is a result of several years of efforts by all Faculties, with supporting roles performed by the International Students Office and CIAC." Professor Sahni said it helps to have Concordia's reputation spread by word of mouth by those involved in international projects and study abroad.

However, the increase is keeping Concordia's tiny International Students Office (ISO) hopping. ISO Co-ordinator Claudette Fortier said that the two kinds of students tend to have different needs. This year, for the first time, the International Students Office is giving separate orientation courses for the two groups of students.

She explained that the exchange students are already enrolled at a university in their home country, and despite differences in the university systems, they generally adapt well to Concordia. They tend to come from France, Sweden, the U.S., Mexico and Brazil.

The degree-taking students, however, are typically from Asia, the Middle East and Africa, coping with a variety of challenges -- language and culture, and often finances as well. Since they are here for their whole program, their commitment to Concordia is deep, and Fortier wants to continue to provide them with as much support as possible.

Exchange students continue to pay their tuition fees to their home university, but the degree-taking students pay Quebec's international student fees, about $9,000 a year.

The Faculty of Commerce and Administration has privatized fees for international students and is stepping up recruitment efforts abroad, sending representatives to education fairs in China, India, Greece, the Middle East and the United States. Associate Dean Jerry Tomberlin reports that these efforts are already paying off.

"There has been a dramatic increase of nearly 50 per cent in applications," he said. "We had 86 international undergraduates last year, and it looks as though we'll have at least 100 this year. It will take about two years to see how [this recruitment campaign] plays out."

Owing to the increase in applications and the general rise in enrolment in Commerce (about 400 more students than last year), many potential international students must be turned away, said Associate Dean Danielle Morin. However, many of them are accepted into their second-choice program, Economics, thus increasing international student enrolment in Arts and Science.

Commerce and Administration has its own International Students Co-ordinator, Romesh Vadivel, who helps newcomers make the transition to Concordia.

- Barbara Black
| | |
| --- | --- |
| Misako Okuyama with her son, Makoto | Angèle Mariotat |
Students talk about life in Montreal
Areception for international students was held last Friday evening in the downtown Faculty Club. Here are some of those who attended.
Stéphane Flouret is from Lille, France, and is studying commerce and economics. "I think the biggest challenge will be the winter," he said. "Also, understanding English, because I don't speak it very well." While he likes Montreal, Stéphane prefers smaller towns, and he likes to get out of Montreal when he has the chance.
Angèle Mariotat is from Normandy, and is studying economics. "This is the first time I'm so far away from home and I have to manage all the affairs. It's sort of exciting," she said. "I miss my friends and my little sister, though -- oh, and French food, too!" She might stay on after this year "if I survive the winter!"
Carlos Valdes is from Guadalajara, Mexico, studying international business. His exchange was a spur-of-the-moment thing. While he is relatively relaxed now, Carlos said his first month in Montreal was "horrible" as he tried to get acclimatized.
Misako Okuyama is from Tokyo, and doing a Master's degree in Art Education. With son Makoto holding on for dear life, Misako said that she has enjoyed her stay thus far in Montreal, describing the city as 'very international.' While she speaks French, she came to learn English "because it is a universal language." Moving here with a young son was not easy, either. "Makoto missed Tokyo at first, but now he's okay."
Shlomi Elmaleh, 32, is from Haifa, Israel, and is doing a Master's in Art Therapy." Even though Shlomi is in his second year at Concordia, the transition still hasn't fully kicked in. "I miss the weather and the people, who are more direct and open, and I also miss the sea." Even with his homesickness, though, Shlomi admits that Montreal is an amazing city to study in.
Ramzi Lebbos is in Integrated Music Studies and is entering his third year at Concordia. When he came here from Lebanon at the age of 18, he found it tough, but he has grown to feel at home. "Some things came as a shock to me," he admitted. "It took time to get used to the independence."
- Interviews by Sidartha Banerjee


Concordia students cautious about studying abroad
Why don't Concordia students go on exchange? Last year, only 35 Concordia students took advantage of the International Student Exchange Program (ISEP), a network of agreements among countries and institutions that enables students to study abroad.
At McGill, 334 students went abroad last year. That figure was split between students who were part of an official exchange program, and those who arranged their own year of study abroad and then arranged to have their credits transferred to McGill.
The costs are minimal. As a Concordia student, you would continue to pay your tuition fees to Concordia, but you could be studying and socializing in Sweden, France or the United States.
However, Valerie Pasztor, director of McGill's Office of International Education, warned that organizing a year abroad takes early planning.
"We insist that they spend a year here before graduation, so they would have to go in their second year, and spend a good part of their first year planning it. We also require that exchange students have at least a 3.0 GPA. We find that students from across the disciplines show an interest in going abroad."
We asked Concordia students at random whether they had ever thought of going on exchange, and if not, why not?
Fimo Mitchell (Communication Studies): I've never really thought about it, mainly because of the financial aspect. I'd love to go to another country, but I've got to think about how I'm going to live over there.
Oliver Yee (Electrical Engineering): I wanted to go on an exchange, but maybe it would interfere with my studies. Moving to another country is pretty drastic. I've got a pretty calm lifestyle here.
Terry Atkinson (Commerce): I've never thought about going on exchange. To think of severing all ties seems ridiculous. The financial side makes it questionable, too.
Namosha Boykin (Political Science): I'd love to go, but how do you go about it? I didn't know that Concordia offered an exchange program.
Rachel Benaroch (Industrial Engineering): No, I haven't [thought about an exchange.] I just got married and I can't just leave everything now.
Deborah Gay (Industrial Engineering): Yes, I have thought of going abroad, but I just started here. I think I'm going to go next year. It's important to travel and to see other things.
To inquire about exchange programs, please contact Concordia's Centre for International Academic Co-operation, 848-4987. The office is in AD-207 on the Loyola Campus.
- Interviews by Sidartha Banerjee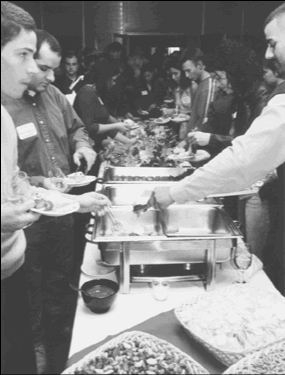 International students dig in at the buffet table.


<! _______________________________________________________________________________>




Copyright 1999 Concordia's Thursday Report.