! THURSDAY REPORT ON-LINE><! 22/10/1998 Issue><! By: S. Mehrad B.Eng. For comments and problems contact: technical@mehrad.qc.ca> <! http://www.mehrad.qc.ca>
Five quirky one-acters are on the bill as the Theatre Department launches a season designed to stretch young actors and delight their audiences.
The lively evening of playlets includes visits with a wise, sassy kindergarten teacher, a couple with either an unexplained pregnancy or a big, indigestible lump in their marriage, a clumsy dentist and his hapless patient, a wife who wants her best friend to take over her husband, and an actress who yearns, just once, to look her audience right in the eye.
Gerry Gross is directing, the D.B. Clarke Theatre is the venue, and the prices are right -- $10 general admission, $8 for seniors, $5 for faculty and staff, and only $2 for students. A group rate is available.
Five Little Wicked One-Act Plays will run October 22, 23, 24, 28, 29, 30 and 31, at 8 p.m. Call 848-4742 for reservations.
Here is a schedule of the rest of the season:
Cabaret X, a political/musical evening, directed by Robert Ross Parker, at Hurley's Bar, 1225 Crescent St., November 17-26
The Nightingale, by Hans Christian Andersen, co-produced with Geordie Productions, directed by Elsa Bolam, in the D.B. Clarke Theatre, December 4-13
Bernardo - Bluebeard, a collective production based on the Paul Bernardo sex murders, directed by Eleanor Crowder, at the D.B. Clarke Theatre, March 5-14
Romeo and Juliet, by William Shakespeare, directed by the distinguished Russian director Alexander Marin, at the D.B. Clarke Theatre, April 15-25
Actor Aislinn Rose levels with the audience in a vignette called Fifteen Minutes, one of the short plays that opens tonight at the D.B. Clarke Theatre.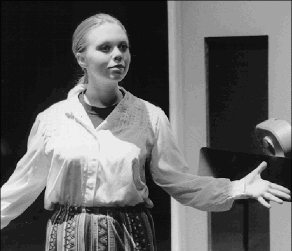 <! ________________________________________________________________________________>