! THURSDAY REPORT ON-LINE><! 22/10/1998 Issue><! By: S. Mehrad B.Eng. For comments and problems contact: technical@mehrad.qc.ca> <! http://www.mehrad.qc.ca>
by Eve Krakow
---
A team of Concordia staff and students has posted its first Web site under Industry Canada's SchoolNet Digital Collections, featuring the life and works of artist and art educator Anne Savage.
The site aims to introduce newcomers to the artist, and to make this extensive art and research collection accessible to a greater number of students, teachers and researchers.
It also gave the students valuable experience, not only in research, Web-site design and technical skills, but also in project organization and planning.
"Usually when students have to design a Web page for class, they choose something of interest to them. But in real life they will have to meet the needs of a client," said Linda Bien, the project's co-director. "As well, their client may be completely ignorant of many of the technical aspects and restrictions of Web design -- as was the case with myself and (Professor Emerita) Leah Sherman!"
The students were supervised by Bien, of the Faculty of Arts Slide Library, Greg Garvey, Chair of Design Art and coordinator of the Digital Imaging and Sound program, and Leah Sherman, curator of the Anne Savage Archives at Concordia.
Industry Canada's SchoolNet Digital Collections program is designed to help young people acquire entrepreneurial and technical skills. It also pro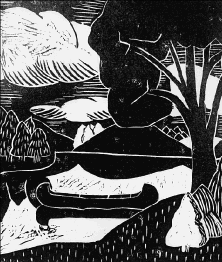 vides cash-strapped institutions the opportunity to improve access to their collections.
The Anne Savage project employed seven students from Art Education and Art Therapy, Art History, Design Art, and Digital Imaging and Sound. It was this multidisciplinary aspect that both Bien and Sherman found extraordinary.
Bien also emphasized the generous help received from people in various departments throughout the University. Materials for the Web site were drawn from the Leonard and Bina Ellen Art Gallery and the Fine Arts Slide Library, as well as the Anne Savage Archives. Scanning was done at the IITS Media Lab.
Born in 1896, Anne Savage was a founding member of the Beaver Hall Hill group of painters, informally associated with the Group of Seven. She later helped found the Canadian Group of Painters.
As an educator, she taught art at Baron Byng High School for 26 years, set up Saturday morning art classes for children at the Art Association, was Supervisor of Art for the Protestant School Board of Greater Montreal, and lectured at McGill and the Thomas More Institute.
In 1967, a Sir George Williams MA student interviewed her for his thesis. When she died in 1971, she left much of her work to Sir George Williams University (now Concordia).
The Web site's lively narrative is illustrated by Savage's paintings and some of her students' works. It also incorporates quotes from her and those on whom she had a positive and lasting influence. These include Alfred Pinskey, former dean of Concordia's Faculty of Fine Arts, and Sherman.
When first asked to serve as consultant for the project, Sherman was enthusiastic but had certain qualms. She felt the images would not do justice to the actual paintings.
"However, I realized the Web site is not meant to replace going to the gallery," she said. "It's aimed mostly at schools and students, to stimulate their interest and curiosity. It's a marvelous tool for introducing them to the artist's work."
Amber Sansom, who re-
cently comple-ted her BFA in Design Art, worked on the site's design. She enjoyed the subject mat-erial, and appre-
ciated both the technical and organizational experience.
"We had different direc-
tives coming from Industry Canada, SchoolNet, and Concordia. We had to be very organized," she said. "But within that structure, we had a lot of free rein. And we had to be self-motivating in terms of scheduling, and so on."
Sansom especially liked the aspect of students learning from each other. Unfortunately, she said, due to the tight deadlines, there was not enough time for students in different fields to learn new skills in the areas of their colleagues.
The site has received so much positive feedback that a new one is already under construction: Canadian Sculpture Coming of Age. This site will include some slides that are in the research collections as well as in the slide library circulating collection. And while the Anne Savage site may be the first Concordia site at SchoolNet Digital Collections, others are in progress.
Under the supervision of Art History Professor Joan Acland, a team of Native students at Concordia has compiled a site titled First Nations Art: An Introduction to Contemporary Native Artists in Canada. The site contains information on more than 100 contemporary Native artists.
Karen Delutis, MA student in Art History and project team leader, says the site is currently being edited by Industry Canada and expects that it will go online in January.
Another important, although somewhat indirect, contributor to the project was Anna Reich-Polgar, who founded the Fine Arts Slide Library in 1969.
When Reich died, she bequeathed money to Concordia and, in particular, to the Slide Library. At the start of the Anne Savage Web site project, Bien and her colleagues decided to use some of that money to buy a powerful computer for the research collection and Slide Library, to be able to work with scanned images.
"It's a wonderful thing that even after her death, Anna Reich-Polgar has contributed to the growth of this library -- in such a modern way!" Bien reflected.
You can visit the Anne Savage Web site at http://www.schoolnet.ca/collections/savage. Linda Bien is also seeking students to work on future projects. Qualified students can contact her at 848-4690. <! ________________________________________________________________________________>