! THURSDAY REPORT ON-LINE><! 22/10/1998 Issue><! By: S. Mehrad B.Eng. For comments and problems contact: technical@mehrad.qc.ca> <! http://www.mehrad.qc.ca>
by Debbie Hum
---
The three-day Sex On The Edge conference held at Concordia October 9 to 11 brought together more than 150 scholars from around the world, representing a wide range of disciplines in a rigorous academic exploration of sexuality.
Researchers from Europe, North America and Australia engaged in what one participant called "48 hours of brain sex," tackling complex issues such as sexual politics, identity,
representation, citizenship, marginalization and polarization.
The keynote speakers, Elspeth Probyn and Michael Warner, are both leading queer theorists. Probyn has received two degrees from Concordia, a Communication Studies diploma in 1983 and Master's degree in 1986. She is the head of Gender Studies at the University of Sydney and a visiting fellow at Goldsmiths College in London. Probyn is the author of Sexing the Self: Gendered Positions in Cultural Studies and Outside Belongings, and is currently completing another book, Visceral Citizens: Essays on Eating, Sex, and Ethics.
She explored the intersections and connections between food and sex as a way of rethinking the "queer ethics of existence."
"Thinking through the one to the other, back and forth, is all about making us more susceptible to pleasure. And pleasure and ethics, sex and food are all about breaking out of the strict moralities which constrain us," Probyn explained to a capacity audience at Concordia's J.A. deSève Cinema.
Michael Warner, an English professor at Rutgers University, is the author of numerous texts, including Fear of a Queer Planet: Queer Politics and Social Theory. Warner is also one of the founders of the New York City activist group Sex Panic, which has performed numerous actions against what they see as the restrictive sex legislation of Mayor RudolphGiuliani's administration.
Warner discussed the counterpublic nature of queer sexual culture and how privacy is publicly constructed, noting that "between the thriving scenes of minor queer counterpublics and the more visible world of the official lesbian and gay movement, the gap has widened."
In a popular panel on youth and sexuality, Heather Hendershot (Media Studies, Queens College, New York) examined the Christian Right and its use of rock concerts, teen magazines and therapeutic talk shows to persuade youth to lead lives of chastity and abstinence. While acknowledging her own secular bias, Hendershot reported that many teens are tortured by thoughts and memories of sexual activities, and they engage in substantial questioning and negotiation over sexual terms.
Eric Clarke (English, University of Pittsburgh) presented a paper in a panel on publicity and citizenship. Noting the saturation of television sitcoms, glossy magazines and advertising venues by commercial images of queers, Clarke said that vigilance is crucial. Queer inclusion in the public sphere often requires normalized representations and those who do not conform to a "hetero-normative standard" are shunned and repudiated.
On the same panel, Cécile Velu (Languages and European Studies, University of the West of England) discussed queer politics in France, where the National Assembly was studying a bill for lesbian and gay rights that skirts the issue of sexuality by focusing on universal citizenship. (The bill was defeated on October 16 when the Socialist majority failed to organize enough votes).
The panel on location and homosexuality included a lecture called "Queerscape Architecture: The Dialectics of Space-Taking and Placemaking in Vancouver" by Gordon Brent Ingram (Landscape Architecture and Environmental Planning, UC Berkeley). Other panels covered sexual transgressions from pornography to prison sex culture, race and the construction of sexualities and representing AIDS.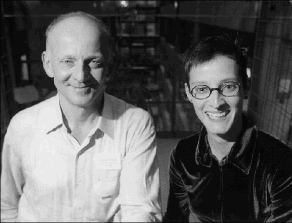 <! ________________________________________________________________________________>