! THURSDAY REPORT ON-LINE><! 22/10/1998 Issue><! By: S. Mehrad B.Eng. For comments and problems contact: technical@mehrad.qc.ca> <! http://www.mehrad.qc.ca>
Along-term space plan for the University proposing to reorient the west-end Loyola Campus to house the pure sciences, psychology, communications/journalism and the performing arts was approved by
the Board of Governors yesterday.
A motion prepared by the Loyola Alumni Association on behalf of a group of Concordia alumni and professors was included in the resolution. The motion assures that the possible creation of a college at Loyola for the social sciences and humanities will be studied.
The long-term plan was arrived at after much consultation with the Faculties, Senate, the Board and the real estate committee of the Board, as well as two open meetings with the community. A close analysis of possible scenarios was undertaken this summer, and after the weighing of many factors, such as academic affinity, cost, and logistics, "Option A," also called the science option, was recommended to the Board.
According to the plan, the pure sciences will be moved to their own new building on the Loyola Campus, while most humanities and social sciences will be consolidated downtown. A new complex will be developed on the York Theatre site for the visual arts, engineering and computer science, and commerce and administration.
The space plan will mean that roughly 20 per cent of Concordia students (double the current number) will make their academic home at Loyola, rarely needing the shuttle bus and giving the west-end campus a new and vital identity.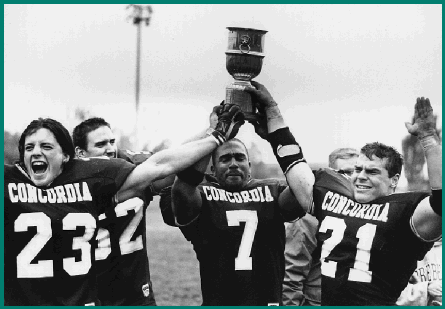 Members of the Stingers football team celebrate with the Shaughnessy Cup on October 10 after beating the McGill Redmen, 30-21. It was the 30th edition of the match-up, which saw Dwayne Bromfield (LB) named O-QIFC Player of the Week. The team went on to win their next game 28-14 against the Bishop's Gaiters, giving them standings of 4-2 O-QIFC, 4-3 overall. <! ________________________________________________________________________________>