! CONCORDIA'S THURSDAY REPORT ON-LINE> <! Oct 21, 99 Issue> <! Site Designede and Developed by: S. Mehrad B.Eng. For comments and problems contact: technical@mehrad.qc.ca> <! http://www.mehrad.qc.ca>



<! ________________________________________________________________________________>
Fair highlights high-tech learning
by Bradford Mackay
---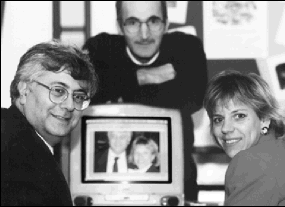 The CSLP Research Fair, held October 6 in the busy atrium of the J.W. McConnell Building, offered 60 researchers an opportunity to showcase their research projects to the general public.

The subjects were wide-ranging, from the development of an interactive Web-based classroom to computer-assisted language tutoring to an investigation into musical performance.

All the research falls under Concordia's Centre for the Study of Learning and Performance (CSLP), founded in 1986 and affiliated with the Departments of Education and Psychology and the TESL Centre (Teaching English as a Second Language).

Children from St. Dorothy's Elementary School were on hand to show how multimedia software has affected their learning. With professional development for St. Dorothy's teachers funded by the Norshield Financial Corp., and using computers that were donated to the school by Apple Canada, students are able to access information from the Internet and manipulate it with the latest software. It was clear from the eager students' flashy presentations that show-and-tell will never be the same.

WebCal, a Web-based calculus course, featured Professor Steve Rosenfield's efforts to revolutionize distance learning. Now in its second year, the project presents a calculus course that has been developed into an interactive Web site, complete with alterable charts and graphs that encourage students to explore for themselves. At present, Vanier College students use in-class computers to follow the professor's lead, but Rosenfield plans to extend the class to a distance-learning course broadcast over the Internet.

Another project, developed under the supervision of Bette Chambers, exhibited tutoring software to be used by participants of the "Success for All" program. Designed and developed by Michel-Charles Therrien and Katherine McWhaw, the software, called Reading CAT, uses multimedia and animation to improve the reading skills in students with reading disabilities.

Offering a break from high-tech wizardry was the Leonardo Project, an ongoing collaboration between performance artists and researchers from the Department of Psychology. Artistic Director Philip Cohen explained how, over the past nine years, the project has investigated the essence of performance by observing and interacting with pianists and other artists. One of its aims is to help artists control performance anxiety and recover from injuries.

CSLP Director Philip Abrami said the goal of the fair was to establish links with both the internal and external communities. Organized by Anne Wade, Research Co-ordinator, this was the second research fair mounted by the CSLP (the first was in 1997). Along with Dr. Abrami, the principal investigators are Dr. Chambers (Education), Dr. Richard Schmid (Education), Dr. Norman Segalowitz (Psychology) and Dr. Patsy Lightbown (TESL Centre).

Photo: CSLP Director Philip Abrami, Mario Rucci, a teacher at St. Dorothy's School, and Anne Wade, Library Studies and CSLP Research Co-ordinator and Information Specialist.

<! _______________________________________________________________________________>




Copyright 1999 Concordia's Thursday Report.