! CONCORDIA'S THURSDAY REPORT ON-LINE> <! Nov. 18, 99 Issue> <! Site Designede and Developed by: S. Mehrad B.Eng.> <! For comments and problems contact: technical@mehrad.qc.ca> <! http://www.mehrad.qc.ca> <! also:> <! http://www.software-farm.com>



<! ________________________________________________________________________________>
Concordia authors
Actors take centre stage in Carole Zucker's book
by Denise Roig
---
Every Saturday when she was in her early teens, Carole Zucker would don suit and heels and take the subway from Brooklyn to New York. "I'd smoke cigarettes and feel very grown up," remembers the professor of Film Studies.
What really made her feel adult were the plays and performers she went to see: Peter Brook's productions of Marat/Sade and A Midsummer Night's Dream, new plays by Edward Albee, and actors like John Gielgud, Alan Bates and Glenda Jackson -- theatre on the cutting edge in the 1960s. "I couldn't get enough of it," she said.
Thirty years later, after acting lessons with Uta Hagen at 17, a stint off-off-Broadway, and 20 years of teaching film at Concordia, Zucker's love of acting and actors comes full circle with her fourth book, In the Company of Actors. (Published by the London publisher A & C Black, the book was just released in Britain, excerpted in The London Times, and will be launched in North America in the new year.)
Through thoughtful, probing interviews with 16 titans of the British and Irish stage and film -- Judi Dench, Stephen Rea, Nigel Hawthorne and Miranda Richardson among them -- Zucker examines what it is to act, to "be there in the moment, to stand up and tell the truth," as she calls it.
Zucker's "truth" about actors almost didn't get told. After spending six years on her first book, Figures of Light, conversations with U.S. film actors and directors, Zucker had vowed, "Never again!" Dealing with the Hollywood scene was "a farce," with agents and publicists blocking her access, lots of "my people will have to talk to your people," and one director even threatening to sue if she changed one comma of his text.
"But then I found myself project-less for about 10 minutes," she said, laughing, and what she calls her "British-Irish book" was born.
Visiting the major acting schools in England, reading every interview she could get her hands on, watching countless films and plays, and sending out hundreds of letters, Zucker finally winnowed her cast down to two dozen. (Eight were later "painfully" edited out by the publisher.) She asked each actor for a minimum of three hours interview time. "I was much less intimidated this time around."
The result makes for fascinating reading. Here are some of the greatest actors of our time thinking out loud about their craft: What is it to prepare for a role? What is the difference between acting for a live audience or the camera? (British actors tend to work in all forms.)
What are the differences between U.S.-style "method" acting and the more classical British and Irish style of acting? In the process of talking about these highly subjective subjects, one also gets a mini-course in the history of modern British and Irish theatre and a real glimpse into the mind and soul of an actor.
"I got wildly different answers to the questions, the questions being a way of getting at the actors' personalities," Zucker said. "Alan Bates, for example, got such a kick out of everything I asked. He thinks deeply about everything. Nigel Hawthorne was so fresh, so completely open and unjaded at the age of 70. I could have spent days with him. Stephen Rea is brave, frank and politically committed."
Eileen Atkins, actress and co-writer of Upstairs, Downstairs, devoted more than four hours to their interview, allowing Zucker to watch her rehearse with Atkins' 15 cats in attendance. "In the middle of a line, she'd say, 'Now, Maisie, stop it!'"
Zucker came away from the interviews with real gratitude for her subjects' generosity and graciousness, and a sense of the differences between British actors and their counterparts across the Atlantic.
"British and Irish actors are more forthcoming, more expressive. Acting is something they have really thought about. And because they're so text-based in England, they deal with language more. It's their legacy."
As she prepares to launch In the Company of Actors in London next month, and gears up for a National Theatre Platform with a couple of "my actors" in the spring, Zucker hopes the book, too, will leave a legacy. "I'd like to think of it as a document of the most wonderful actors working at the end of the century. I especially hope it's of use to acting students in the future."
It's been of great use to the author, too. With the book completed, Zucker found herself "itching to get back to working with actors." She's now leading a private acting workshop. "I really do love actors," she said. "It's pure love."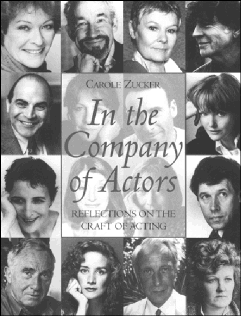 <! _______________________________________________________________________________>




Copyright 1999 Concordia's Thursday Report.