! CONCORDIA'S THURSDAY REPORT ON-LINE> <! Nov. 18, 99 Issue> <! Site Designede and Developed by: S. Mehrad B.Eng.> <! For comments and problems contact: technical@mehrad.qc.ca> <! http://www.mehrad.qc.ca> <! also:> <! http://www.software-farm.com>



<! ________________________________________________________________________________>
Of Note
---
Search for Vice-Rector, Services
Concordia University invites applications and nominations for a dynamic, innovative and resourceful executive for the position of Vice-Rector, Services. This appointment is for a five-year term, commencing early in the new year.
As part of the Rector's leadership team, the Vice-Rector, Services, plays a pivotal and strategic role in the achievement of the University's broader educational objectives. The principal goal of the position is to promote a safe and enriching environment that maximizes student, faculty and staff learning, research and development. The Vice-Rector, Services, provides vision, leadership and administrative overview for programs, activities and services in the following areas: Student Services, Registrar's Office, Physical Resources (Facilities Management and Planning), Recreation and Athletics, Security, Environmental Health and Safety, Bookstore, Conference Services, IITS (Instructional & Information Technology).
Applications and nominations (including a full curriculum vitae, a one-page summary of relevant experience, and the names of three referees) should be sent by December 31 to the attention of Diane Hastings, Secretary to the Advisory Search Committee, Office of the Secretary-General, Concordia University, 1455 de Maisonneuve Blvd. W., Montreal, Quebec, H3G 1M8.
---
Faculty of Commerce and Administration Open House
November 18 and 19 -- Atrium, J.W. McConnell Building
Special programs on November 19:
11 a.m. - Undergraduate programs: What do I need? How do I choose?
12 noon – Faire le Grand Saut: Especially for francophones
1 p.m. – Co-op programs: Get salaried work experience before graduation
3 p.m. – What you can do now to get the job of your dreams
Visit our Web site at http://www-commerce.concordia.ca
---
Département d'Études françaises
Gisèle Pineau
Actualités romanesques et questions identitaires
17 novembre, 13 h 15
Salle H-767
Originaire de la Guadeloupe, Gisèle Pineau est l'auteure de nombreux romans, nouvelles et essais. Son oeuvre riche et diverse a été couronnée par plusieurs prix littéraires.
---
Blues to make you merry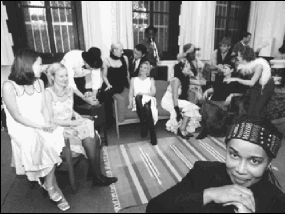 Concordia's Jazz Choir, under the direction of Music Professor Jeri Brown (seen in the foreground), can put you in the mood for the holiday season on December 1, 2 and 3. Four Wall Blues is based on the lives of blues singers from the years 1910-1915, such as Bessie Smith, Billie Holiday and Fats Waller. For tickets, call the Oscar Peterson Concert Hall, at 848-7928.
Last night, Professor Charles Ellison and the Concordia Jazz Chamber Players played a concert of Duke Ellington's sacred music in the Loyola Chapel to commemorate the centenary of Ellington's birth.
---
Courses in English
Concordia's Centre for Continuing Education offers several 40-hour sessions starting soon, including:
* Conversation courses
* Preparation for standardized tests
Classes are given Monday to Friday during the day over two weeks, from November 29 to December 10.
Registration lasts until November 26. Please call 848-3600 or contact celi@alcor.concordia.ca for fees and more information. <! _______________________________________________________________________________>



Copyright 1999 Concordia's Thursday Report.