! CONCORDIA'S THURSDAY REPORT ON-LINE> <! Nov. 18, 99 Issue> <! Site Designede and Developed by: S. Mehrad B.Eng.> <! For comments and problems contact: technical@mehrad.qc.ca> <! http://www.mehrad.qc.ca> <! also:> <! http://www.software-farm.com>



<! ________________________________________________________________________________>
Senate Notes
A regular meeting of University Senate, held November 5, 1999.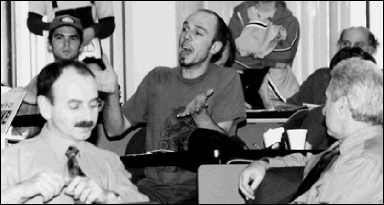 Accreditation: Dean Nabil Esmail announced that accreditation by the Canadian Engineering Accreditation Board (CEAB) has been renewed for four programs in Engineering and Computer Science, namely, Building Engineering, Computer Engineering, Electrical Engineering and Mechanical Engineering.
Student strike: About 30 student demonstrators, many of them carrying placards, attended the meeting, most of which was taken up with their concerns as part of an ongoing discussion on academic priorities. Here is a sample of what was said.
Rob Green, Concordia Student Union (CSU) president: I find it a bit ironic that this agenda item is titled "relations with the external community" because I don't know any community where everyone is earning more than six figures, and this is the case with the community members of our Board of Governors. . . We're not alone in having these concerns. We attended a conference last weekend in Ottawa of the Canadian Association of University Teachers, and the entire subject was just that, the corporate takeover of Canadian education, and what that means for Canadian universities. . . This money does not come to us without strings attached. Some corporations will get tax write-offs for making donations. We have to be more concerned about the others. If they aren't receiving exclusive rights to research, they are at least getting the right of first refusal. We're also seeing that the private sector is becoming more involved in designing and directing not only research but curriculum itself. . . What I'm proposing is that we be one of those universities that goes down screaming "Academic freedom!" -- or doesn't go down at all. [applause]
Peter Rist (Fine Arts): This is very interesting, and I'm grateful to see this energy, but I'm confused about the student agenda. There is a window of opportunity here. Students across the country should go after the federal surplus [that has just been announced].
Chris Piché (student representative, Engineering): I feel the [CSU] funding demands are justified, but [activism against] corporate sponsorship could reflect on our students getting jobs.
Deepak Boojhawon (student representative, Commerce): I agree we should be critical, and screen corporate sponsors, [but] we must be competitive in the world of tomorrow. [Donors] are not investing for themselves, they're investing in the students.
Nabil Esmail (Dean, Engineering and Computer Science): I am proud of our Faculty. It has a highly regarded code of ethics. Engineers as professionals serve the public, and provide the tools for a better quality of life. . . Most of our external funding comes from the government of Canada; the corporate money is buying computers. . . We all stand guard for academic freedom. If you don't trust your professors, we have a problem.
Clarence Bayne (Commerce and Administration): Why don't we get rid of corporations? [It would make more sense to] get rid of consumption behaviours. Corporate society is evil in many ways, but what kind of institutions do we support to keep it in check? The issue is not profit, but the [fair] distribution of goods and services.
John Capobianco (Arts and Science): [The donation to create a biotechnology centre] is an investment in the future of Quebec and Canada. I would invite these students to take the biotechnology course -- it's a general course -- and also the environmental course, and they would appreciate [the experience].
Provost/Vice-Rector Research Jack Lightstone: [If and when] funding has been restored, our [complex] relationship with the external community will not go away. The university has to engage in society, or it's not doing its job. Of course [we] cannot allow corporate dollars to endanger the curriculum. We have turned down offers of major donations because we felt that the terms required by the donor would impinge upon the academic freedom of the institution. We have regulations; for example, where we undertake research on a contract, we must be able to publish freely, and we refuse contracts where companies do not accord us that right. [Also,] we have to review these policies regularly, because the world changes.
Two motions proposed by the student senators were passed. One ensured that students who took part in the strike November 4 and 5 would not suffer academically, and the other supported the students' call for restoration of $1.9 billion in cuts to Quebec universities. Several other resolutions were tabled for a future meeting.
Compiled by Barbara Black
Next meeting: December 3. <! _______________________________________________________________________________>




Copyright 1999 Concordia's Thursday Report.