! THURSDAY REPORT ON-LINE> <! 18/03/99 Issue> <! Site Designede and Developed by: S. Mehrad B.Eng. For comments and problems contact: technical@mehrad.qc.ca> <! http://www.mehrad.qc.ca>



<! ________________________________________________________________________________>
Executive MBA advances all sorts of careers
by Derek Cassoff
---
When she taught undergraduate courses in biochemistry and microbiology at Harvard University, Anne Lane never imagined that she would one day find herself back on the other side of a classroom -- behind a desk, with exams looming and assignments piling up. That was before the 34-year-old pharmaceutical specialist decided to expand her expertise beyond the sciences by pursuing a Master's of Business Administration (MBA).
"I wanted to move away from the research side of things and get more involved in the business aspect of pharmaceuticals," said Lane, an employee at RTP Pharma, a mid-sized drug company on Nun's Island.
Concordia's Executive MBA program proved to be the perfect answer for Lane, who did not want to take a leave of absence from her promising career. Instead, she attends classes one day a week, alternating between Fridays and Saturdays, and will complete her degree this spring, in just two years.
Established in 1985, the Executive MBA program is aimed at people already in the workforce who want to go back to school while continuing to hold down full-time jobs. It's possible, provided you have a co-operative employer and $42,000 to spend on tuition -- a price-tag that includes a laptop computer and an all-expenses-paid, 10-day business field trip, usually to the Far East.
While the program tends to attract mainly mid-level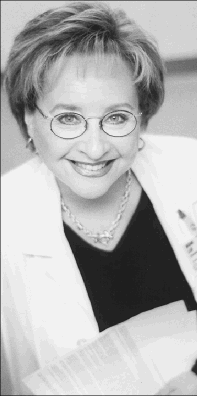 executives with a business inclination, program Director Alan Hochstein says that a growing number of students come from more diverse backgrounds.
Like Lane, first-year student Lee Wohl has spent her entire career in the science field, working for 24 years as a pharmacist, including the last 22 at the Jewish General Hospital, where she now works in the emergency room.
Wohl, 45, had always wanted to pursue a graduate degree, and the Executive MBA program has proven to be a good fit. "[Going for my MBA] is a dream come true for me," she said during a break from her hectic pace at the hospital, "but the thought of dragging it out at night for six years was not that tempting."
A pharmacy graduate of the Université de Montréal, Wohl admits that she has had a tough time making the adjustment to business-type courses. "It was incredibly difficult at first, like trying to fit a square into a circle," she said.
"With my science background, I was used to numbers, but these courses are number oriented in a different way, and several of the courses really threw me for a loop. Statistics was a nightmare, and even something as innocuous as organizational behavior was difficult."
That feeling of helplessness was also shared by Lane, who spent most of her first term debating whether she had made the right decision. "Most of what we learn is brand new to me," she said. "I had never taken any courses in accounting or anything even remotely related to that. I always feel like I'm at a slight disadvantage, not having a business background."
The course curriculum is structured much like that of a regular MBA program, Hochstein said. Students take courses from five major streams: accounting, finance, marketing, management and decision sciences. The curriculum is constantly being upgraded with courses like electronic marketing to meet the changing demands of the workforce.
Hochstein confirmed that it can be a gruelling experience for those who embark on the program; in addition to their courses and their full-time jobs, students are saddled with 40 hours of homework a week and are expected to maintain good grades.
"We don't sell these degrees; the students have to pass their courses," he said. "I don't know how they do it. They sleep less and their weekends are gone." Despite the rigours, more than 90 per cent of students end up graduating and of those, many go on to bigger and better things in their careers.
"They're successful people to start with, and with an MBA degree under their belts, they can jump a step up the corporate ladder," Hochstein said.
Information sessions for prospective students are being held in the newly refurbished EMBA facilities in the Guy Métro Building on March 24 at 5:30 p.m., April 21 at 7:30 a.m., and May 19 and June 16 at 5:30 p.m. Out-of-town sessions are also scheduled for Pointe Claire, Plattsburgh and Burlington, Vt. For more information, call 848-3696 or consult the Commerce and Administration pages on Concordia's Web site, at www.concordia.ca <! _______________________________________________________________________________>



Copyright 1999 Concordia's Thursday Report.