! THURSDAY REPORT ON-LINE> <! 18/03/99 Issue> <! Site Designede and Developed by: S. Mehrad B.Eng. For comments and problems contact: technical@mehrad.qc.ca> <! http://www.mehrad.qc.ca>



<! ________________________________________________________________________________>
Imagery is more important than words to their culture
Art therapist successful with Cree patients
by Alison Blackduck
---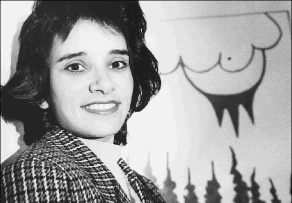 Concordia instructor Nadia Ferrara began her pioneering journey as an art therapist and academic by helping a nine-year-old boy named Luke.
This Concordia alumna (BA Child Studies 89) was pursuing her Master's in art therapy at Norwich University in Vermont in 1989 when she met Luke, a Cree child from Northern Quebec, during an internship at a residential treatment facility in Montreal. It was a meeting that changed both their lives.
"He was just dropped on me," she remembers fondly. "It was an immediate attachment."
Luke had been sent to the treatment facility because his emotional problems and a hearing impairment made it too difficult for his parents, who lived off the land for most of the year, to take care of him. However, once Luke arrived in Montreal, he was shunted around the system and finally declared "untreatable."
"I was told by non-Cree colleagues that it would be an arduous task since the Cree children are apparently 'blocks of ice' and there is a pronounced inability to describe feelings," Ferrara wrote in her recently published book Emotional Expression Among Cree Indians: The Role of Pictorial Representations in the Assessment of Psychological Mindedness.
Ten years after that fateful meeting, Ferrara is sitting in her Montreal North home, happy that she didn't let the critics and the nay-sayers get her down. "I treated Luke in individual art therapy for two-and-a-half years and in that time, he gained 45 months in psychological testing," she said. "I got referral after referral from the native community because of my success with Luke and the Cree community's faith in the intervention."
The main problem therapists encounter when treating Cree patients is not the therapist's lack of dedication or skill, Ferrara said, but the limits of accepted diagnostic criteria. According to criteria used by most therapists, many Cree patients lack "psychological mindedness."
Psychological mindedness is "an individual's responsiveness to inner needs, motives and experiences of his or her self," she said. Our psychological mindedness is usually gauged by how well we express our feelings verbally. This reliance on verbal expression, she said, is culturally biased.
"The Cree have been described as taciturn and reserved. Non-natives described them as not being at the feeling level and not experiencing the same emotions as the non-Cree. My experience with the Cree is that they are not as taciturn as they are so often portrayed. For the Cree, just being together and not talking is what is valued."
What the Cree value, she said, are imagery, dreams and action, all of which work well with the aims and practices of art therapy. "The Cree place great importance on the use of silence as an appropriate response. Among the Cree, speech rarely conveys what the speaker means," she notes in her book.
Over the years, Ferrara has made a point of working directly with the Cree. Her dark Italian features warmed them to her. "Just the way I look has a direct effect. They often think I'm Cree, or at least part Cree."
But Ferrara is quick to add that looks only go so far. "My way of working is to get directly involved and not impose my world view. Once they're aware that I'm not there to change them or their world view, they begin to accept me."
As for Luke, Ferrara rejoices that he just celebrated his 18th birthday in his home community, where he is cherished and loved by his family and neighbours. "They're glad to have him back," she said. By the smile on her face, it's easy to tell that she's glad, too.
Ferrara also works with Mohawks in Kahnawake and the Ojibwa of Northwestern Ontario. At Concordia this term she is teaching an anthropology course, Indian and Inuit Socio-Political Organization, while pursuing a PhD in medical anthropology at the Université de Montréal. Her book is being launched tonight at 7 p.m. at Chapters on Ste. Catherine St.
Nadia Ferrara, with artwork by one of her patients in the background. <! _______________________________________________________________________________>



Copyright 1999 Concordia's Thursday Report.