! THURSDAY REPORT ON-LINE> <! 18/03/99 Issue> <! Site Designede and Developed by: S. Mehrad B.Eng. For comments and problems contact: technical@mehrad.qc.ca> <! http://www.mehrad.qc.ca>



<! ________________________________________________________________________________>
Of Note
Correction
In an article about the Graduate Students Association in the last issue (March 4), we stated that the GSA represents all graduate students at Concordia. In fact, graduate students in Commerce and Administration are represented by the Commerce Graduate Students Association and those in Engineering and Computer Science by the Engineering and Computer Science Graduate Association. The GSA has been working with these associations on issues of mutual interest. The editor regrets the error.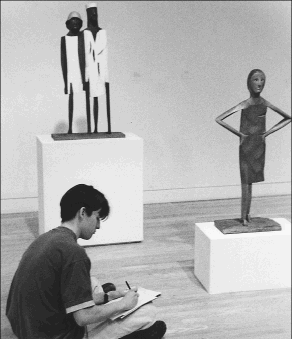 A show of work by Anne Kahane at Concordia's Leonard and Bina Ellen Art Gallery provided an ideal educational opportunity.
Art Education Professor Leah Sherman gave several of her students the assignment of designing a teaching unit within a high school with the co-operation of the classroom teachers. To finish off their projects, groups of students from Trafalgar, Westmount High and École Secondaire St-Louis visited the gallery to see the show.
The curator, Joyce Millar, is a PhD candidate and lecturer in Art History. She assembled 23 sculptures and 24 wood-block prints spanning four decades of the artist's career. Kahane's whimsical wood sculptures (above) are particularly well loved. <! _______________________________________________________________________________>



Copyright 1999 Concordia's Thursday Report.