! THURSDAY REPORT ON-LINE> <! 18/03/99 Issue> <! Site Designede and Developed by: S. Mehrad B.Eng. For comments and problems contact: technical@mehrad.qc.ca> <! http://www.mehrad.qc.ca>



<! ________________________________________________________________________________>
Coach Keith Pruden is named Quebec's coach of the year
Making the women's basketball team a force to be reckoned with
by Derek Cassoff
---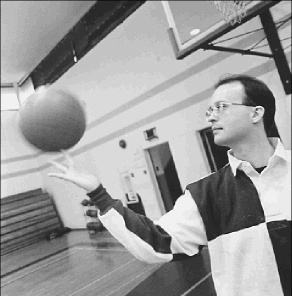 Keith Pruden was certainly no stranger to winning when he arrived at Concordia four years ago to head the University's women's basketball program. As an assistant coach at the University of Winnipeg, he had a front-row seat as the Wesmen won a North American record of 88 straight games, including three consecutive national championships.
While Pruden says he has no expectation of ever duplicating that amazing win streak, he has the Stingers on track to become one of the country's top college basketball powerhouses -- a notion that was unfamiliar just a few years ago when the program struggled through a prolonged period of mediocrity.
"I came from a program where success was like a routine and it was great being in that atmosphere," said Pruden, 32. "I see great potential here and my goal is to keep this team as competitive as possible for the next 15 years."
The Stingers made their third straight appearance in CIAU championship last weekend in Thunder Bay, Ont., finishing sixth for the third year in a row.
Seeded eighth, they lost to the top-ranked University of Victoria Vikes in their opening game and were relegated to the consolation round, where they beat McMaster and lost to the University of Regina.
"Overall, the girls played well," said Pruden, named Coach of the Year in the Quebec league. "You don't like to lose your first game, but the kids should be proud that they made it to the nationals. Finishing sixth in the country is nothing to be disappointed about."
The son of legendary college basketball coach Vic Pruden, Keith Pruden began coaching when he was 15, starting out with a junior high school team in his native Winnipeg. By 21, he joined the coaching staff at the University of Winnipeg, where he stayed for seven seasons. Offered the head coaching job with Concordia in 1995, he says it was an opportunity he could not turn down, despite the Stingers' checkered past on the court, which had included only two conference championships in the previous 11 seasons.
"Concordia had always had a fair amount of talent, but varied levels of success," he said. "I never really asked why and I didn't want to know. As far as I was concerned, past history was irrelevant."
Instead, Pruden went about revamping the program from the ground up, injecting the team with a sense of structure, which extended from their play on the court to the players' training regimen away from the gym. And with the exception of his first season -- when the team lost 16 of its 30 games and bowed out from the post-season in the conference semifinal -- Pruden has turned the Stingers into Quebec's dominating force, posting a 43-17 record in league play since then to go along with the three straight berths in the nationals.
"I want other schools to be afraid to play us, afraid that they're going to lose by 100 points," he said. "That's a new feeling for most of our players."
Along the way, Pruden has become more involved in the varied aspects of University life. He recently started a new job as Coordinator of Student Affairs, where he is responsible for establishing relationships between the Dean of Students Office and the dozens of student groups and associations on campus. He's also taking a graduate course in American history in the hopes of finishing a Master's degree that he started in Manitoba.
"It's certainly possible to coach and do nothing else," he said, "but that gets boring after a while."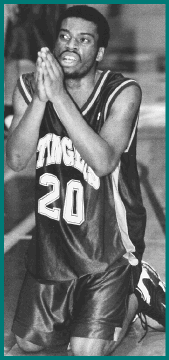 Aw, come on, ref


Eric Zulu pleads for mercy during a game at the Quebec men's basketball conference champion-ships, held in Lennoxville. The Stingers had a great season, but were defeated in the final best-of-three series by the Bishop's Gaiters. <! _______________________________________________________________________________>



Copyright 1999 Concordia's Thursday Report.