! THURSDAY REPORT ON-LINE> <! 18/03/99 Issue> <! Site Designede and Developed by: S. Mehrad B.Eng. For comments and problems contact: technical@mehrad.qc.ca> <! http://www.mehrad.qc.ca>



<! ________________________________________________________________________________>
Irish studies lead to prize-winning fiction
by Barbara Black
---
Michele Crawley, a student in Concordia's Irish studies cluster, won first prize in the Nuacht Short Story Contest sponsored by the St. Patrick's Society of Montreal. The Society's president, Lynn Doyle, came to Concordia to present her with her prize.
Her story, Me and My Rough and Tumble Sister, is a charming story about two little girls talking about the bits of lore they have heard from their parents, trying to sort out the rights and wrongs of the great famine of 1847-48 that drove a sizeable portion of the population of Ireland out of their own country.
"The girls are asking, What happened before the story we were told got started?" Crawley explained. "I remembered asking that. It's hard to comprehend the hunger, the scale of the poverty."
Crawley said she has written lots of fiction over the years, but this is the first time she has offered it to others. She came from Halifax to pursue her lifelong interest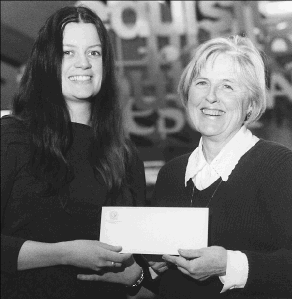 in
Ireland, and is thrilled with Concordia's program, which has been built up over several years
by English Professor Michael
Kenneally.
"It's amazing," she said. "Michael Kenneally has given it a very broad focus, not only on language and literature, but on history, art, including women's art, and geography. He invites a lot of Irish academics to come and speak, which really fills in the blanks for the students." There's also the popular Cine Gael film series, as well, which attracts many from outside the University.
The program is doing so well that students, professors and supporters held their first annual St. Patrick's Day party last Friday afternoon in the J.W. McConnell Building.
A broadly based support group, led by Kenneally and others, is working toward making the Irish studies cluster into a full-scale academic program; they have been raising money for severalyears toward a $2.3 million endowment fund. While the fund is now at the $1.6-million mark, there are encouraging signs from government sources that the project will reach
its goal.
Students in the Irish studies cluster are subscribing now for the Irish Studies program's first field trip, organized through Concordia's Department of Geography. In May, about a dozen students will go to Ireland for three weeks, not only to walk the streets of James Joyce's Dublin and see the scars of troubled Belfast, but to sample the neolithic remnants of an ancient geological past in the western county of
Galway.
The students have all been taking Professor Robert Aiken's course in the landscape of Ireland. They will be accompanied by him, Geography Professor Monica Mulrennan,
15 students from Memorial University of Newfoundland and a Memorial professor, and will also benefit from local academic expertise when they arrive.
Crawley won't be taking the trip, however, because she has her own plans. She has applied for admission to Trinity College, University of Dublin,to qualify as a high school teacher, and is determined to immigrate to Ireland, the reverse of what her ancestors had to do. <! _______________________________________________________________________________>



Copyright 1999 Concordia's Thursday Report.