! THURSDAY REPORT ON-LINE> <! 18/03/99 Issue> <! Site Designede and Developed by: S. Mehrad B.Eng. For comments and problems contact: technical@mehrad.qc.ca> <! http://www.mehrad.qc.ca>



<! ________________________________________________________________________________>
New course on the Internet, support for teachers of large classes
Arshad Ahmad nudges education into the millennium
by Barbara Black
---
Arshad Ahmad is doing his PhD in education at McGill while he teaches finance in Concordia's Faculty of Commerce and Administration, and he's already come up with several bright ideas to make learning more effective and efficient.
For one thing, he is behind a new three-credit elective course that gives students the chance to learn at their own pace and avoid the classroom altogether.
Personal Finance On-Line is being offered in the fall of 1999 by Concordia's Finance Department, in co-operation with Prentice Hall Canada publishers. The course covers such practical decisions as buying a car or home, investing in stocks, mutual funds and bonds, and buying insurance and RRSPs.
Anyone affiliated with the University, including faculty and staff, can enrol, with no prerequisites. The course fees and materials are the same as for any other course.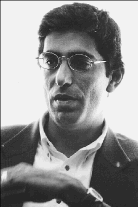 There's a general information session at the start of the term. Then students are taken through the assigned readings with the help of Web-based videos, activities and summaries. There are several online assignments and one final exam, which is taken on campus.
Help is available by e-mail, phone, or in person, by appointment.
To find out what kind of hardware and software are needed, prospective students should check http://www-commerce.concordia.ca/comm499f
Ahmad has also been trying to help faculty members faced with classes of more than 50 students, and that includes many of his colleagues at Concordia.
"Teaching large classes has always raised a number of important questions," he said in a message sent to department chairs last week. "Instructors often feel unprepared and overwhelmed, and students feel they become invisible."
With the help of Olivia Rovinescu, of Concordia's Centre for Teaching and Learning Services, and her counterpart at McGill, he organized a three-way video conference to give teachers the opportunity to exchange their view on the topic. About 25 people attended the first session, which took place simultaneously at the Henry F. Hall Building and McGill's Macdonald College and Redpath Hall. (See sidebar, below)
Ahmad, who won a 3M award for teaching excellence in 1992, is almost evangelical in his drive to improve the delivery of learning. "I am convinced that this kind of faculty development is not a luxury, but part of the commitment we have made to improve learning for our students."
Part Two of the large-classes workshop will be held Friday, March 26, from 9:30 to noon in Room H-521. To attend, please contact Silvana at 848-2495 or e-mail ctls@alcor.concordia.ca. If you have any general questions, feel free to contact Professor Ahmad at arshad@vax2.concordia.ca <! _______________________________________________________________________________>



Copyright 1999 Concordia's Thursday Report.