! THURSDAY REPORT ON-LINE> <! 15/04/99 Issue> <! Site Designede and Developed by: S. Mehrad B.Eng. For comments and problems contact: technical@mehrad.qc.ca> <! http://www.mehrad.qc.ca>



<! ________________________________________________________________________________>
Key to success
Members of the Garnet Key Society are on the front lines of the University, putting a smiling face on ceremonial events throughout the year. On April 9, it was their own turn to party, as they held a banquet for old and new members at a restaurant in Old Montreal.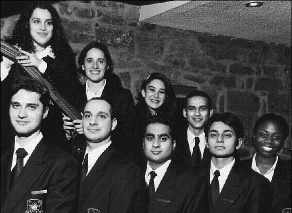 In the outgoing Garnet Key are Diana Audino, Samantha Cukier, Ferdinando DeLuca, Christopher Feret, Karene-Isabelle Jean-Baptiste, Siddharth Kashyap, Rehan Mian, Hasmatulla "Johnny" Mujahid, Christiana Persaud and Lamis Subai. Most are pictured at right.
The 42nd Garnet Key, whom you'll see in the dark red blazers next academic year, are Tahmina Afroz, Iftekhar Ahmed, Gabriel Fortin, Liliane Gondo, Michael Lautman, Grigoria Maurogeorgis, Shane Neil, Jesse Rodriguez, Marina Siponene and Mylene Wasfy. They are in the photograph below.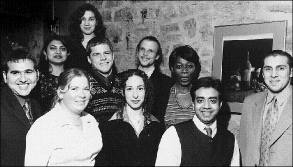 <! _______________________________________________________________________________>



Copyright 1999 Concordia's Thursday Report.