! THURSDAY REPORT ON-LINE> <! 15/04/99 Issue> <! Site Designede and Developed by: S. Mehrad B.Eng. For comments and problems contact: technical@mehrad.qc.ca> <! http://www.mehrad.qc.ca>



<! ________________________________________________________________________________>
Athletic Awards 1999
Young athletes rewarded for excellence
Athletic Awards were presented at a gala dinner on April 9 to the best of Concordia's athletes. Congratulations to them all.
The Dr. Robert J. Brodrick Award for outstanding male athlete went to Dwayne Bromfield of the football team. The Female Athlete of the Year was Corinne Swirsky, of the women's hockey team, for a third straight season.
The Ron Lapointe Award, presented to the top graduating male athlete, went to Jay Prosper, of the men's basketball team. The Denise Beaudet Award, presented to the top graduating female athlete, went to Kari Colpitts, of the women's hockey team.
The Male Rookie of the Year Award went to Eric Zulu, of the men's basketball team, and the Laurie Brodrick Award for outstanding female rookie went to Marie-Pier Vielleux, of the women's basketball team.
Football coach Pat Sheahan was honoured for his 50th coaching victory, on October 10, 1998, and women's hockey coach Les Lawton for his 400th coaching victory, on January 17, 1998. The Gazette'sRandy Philips was given a media award.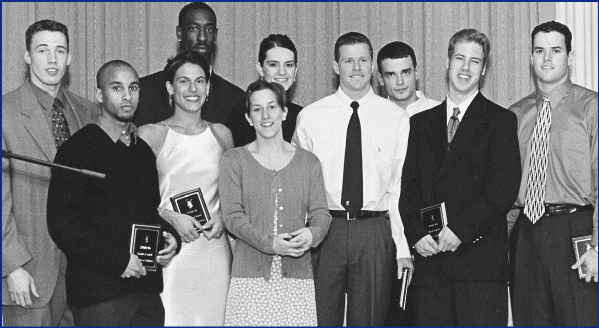 Merit Awards went to Sylvain Girard (football), Andrew Adams (soccer), Monika Conway (rugby), Ezra Franklin (basketball), Alison Piela (rugby), Marie-Hélène Héroux (basketball), Dave Miller-Johnston (football), Alexei Nemichinov (basketball), Alex Smith (football) and Jim Wood (football).



Male athlete of the year Dwayne Bromfield (football)


Female athlete of the year Corinne Swirsky (hockey)

<! _______________________________________________________________________________>



Copyright 1999 Concordia's Thursday Report.