! THURSDAY REPORT ON-LINE> <! 15/04/99 Issue> <! Site Designede and Developed by: S. Mehrad B.Eng. For comments and problems contact: technical@mehrad.qc.ca> <! http://www.mehrad.qc.ca>



<! ________________________________________________________________________________>
Molinari pays warm tribute to the seasons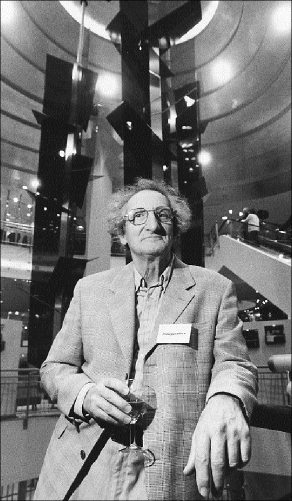 Artist and longtime Fine Arts Professor Guido Molinari has brought his trademark bold colours and striking edges to the new downtown Simons department store.
A bold installation of laminated glass panels eight metres high and coloured red, green, blue and yellow, denoting summer, winter and the transitional seasons, it hangs in the three-storey central atrium of the store, where it will rotate and glimmer under timed lighting.
Although the Quebec City store opened its first Montreal branch in the former Simpson's on Ste. Catherine St. a week earlier, a separate opening reception was staged April 6 to unveil Molinari's monumental sculpture, called Solstices.
Hundreds of invited guests sipped champagne and nibbled hors d'oeuvres among the socks and scarves, while dancers in red-and-blue bodysuits descended the escalators on either side in clouds of dry ice. Manager Peter Simons told the large crowd that he has long admired Molinari, and his family acquired their first of his works in 1973.
Molinari may have retired from teaching at Concordia, but he continues to be one of Canada's foremost artists. He is also a musical patron, having lent his name and studio to the Molinari Quartet, a young string ensemble specializing in 20th-century compositions. <! _______________________________________________________________________________>



Copyright 1999 Concordia's Thursday Report.