! THURSDAY REPORT ON-LINE> <! 14/01/99 Issue> <! By: S. Mehrad B.Eng. For comments and problems contact: technical@mehrad.qc.ca> <! http://www.mehrad.qc.ca>


<! ________________________________________________________________________________>
Haghighat and Gunnarsen are testing Concordia's indoor air
An e-nose for odour
by Sylvain Comeau
---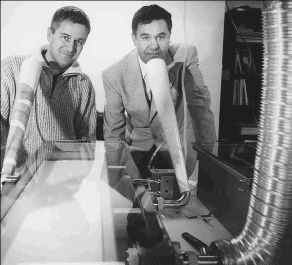 Concordia's air quality is under the microscope. Building Engineering Professor Fariborz Haghighat, with Dr. Lars Gunnarsen of the Danish Building Research Institute, is conducting an extensive survey of air quality in a number of Concordia buildings.
"We have techniques for measuring indoor chemical emissions," Haghighat said, "but there are over 600 different chemicals in a given environment, so we cannot measure each of them every time.
"The easiest way is to use people as the judge of whether air is good or bad. Many industries use similar methods; wine companies ask people to taste the wine, and the perfume industry uses a panel to say whether their products are acceptable or not."
Supported by a research grant from the Scientific and Environmental Affairs Division of the North Atlantic Treaty Organization (NATO), Haghighat and Gunnarsen are conducting tests with panels of volunteers who offer their impressions after getting a brief whiff of Concordia indoor air. Volunteers qualify as long as they have noses and are willing to be brutally honest.
"We are using their noses as a measuring instrument," Gunnarsen said. "Panels of 40 people enter a room from outside, and give us an evaluation of acceptability of the air and odour intensity. We also ask them to periodically go out into fresh air to refresh their senses, since the human sense of smell tends to adapt very quickly to the environment."
Panel members come into buildings in the morning to measure the effects of inactive ventilation systems at night.
"As an energy-saving measure, the mechanical ventilation is shut off during the night in most Concordia buildings -- this is a common practice now," Haghighat said. "One of the purposes of the study is to learn how this affects air quality. When the ventilation system is off, there is no fresh air coming in to dilute the pollutants, and people entering in the morning may be exposed to a higher concentration of chemicals."
At the completion of the study with human subjects, the team will seek parallels between their results and data from chemical analysis of emissions.
"We are looking for the relationship between sensory measurement and chemical measurement of emissions. The ultimate goal is to develop an electronic nose -- an E-Nose -- which will detect contaminants inside a building. It is difficult to develop a sensor for each type of gas that can exist in a building. Rather, we will develop the device using our knowledge of the relationship between perceptions of indoor quality, and the gases that are present." The E-Nose will then be designed to bridge the gap between the two, by mimicking human perception of contaminants.
Haghighat and his collaborators are hoping that the E-Nose will prove valuable in preventing ailments that have fallen under the generic term, in recent years, of "sick building syndrome."
"Indoor air pollution is probably responsible for a lot of workplace-related health problems," Gunnarsen said. "It can be the cause of headaches, nausea, allergic reactions, immune system disorders, and so on."
Haghighat foresees an automated system in which the E-Nose would help regulate building ventilation. "The E-Nose could react to high levels of odours or contaminants inside a building by sending a signal to the ventilation system to bring in more fresh air from outside."
Haghighat feels that the survey with human subjects will provide a foundation of accuracy for the E-Nose.
"We are well aware that the design will be based on subjective results," Haghighat added, "but if people don't feel comfortable in a certain building, that affects both their health and productivity. With more and more people working in office buildings, employers must address the issue of indoor air quality."
The study of the relationship between sensory and chemical analysis for the development of a sensor for indoor air quality is a research subject of current interest. A team comprising Professors Haghighat and Sabah Toma Alkass (Building, Civil and Environmental Engineering), Michael von Grunau (Psychology), Asim Al-Khalili, Leslie Landsberger and Mojtaba Kahrizi (Electrical and Computer Engineering), and David Cheeke (Physics) received a grant from Concordia University Major Interdisciplinary Research Initiatives (MIDRI) to establish this relationship. The long-term goal of the project is to replace the human nose with the E-Nose.
Haghighat and Gunnarsen will present a paper on their research at the International Conference on Indoor Air 99 next summer in Edinburgh, Scotland.
<! _______________________________________________________________________________>

Copyright 1998 Concordia's Thursday Report.