! THURSDAY REPORT ON-LINE> <! 14/01/99 Issue> <! By: S. Mehrad B.Eng. For comments and problems contact: technical@mehrad.qc.ca> <! http://www.mehrad.qc.ca>


<! ________________________________________________________________________________>
MBA Case Competition
by Derek Cassoff
---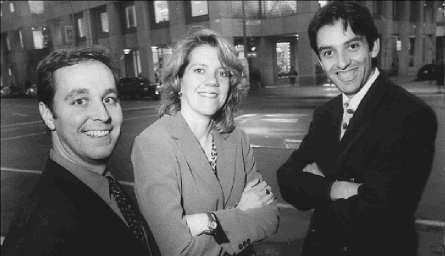 MBA Case Competitions organizers Carl Tischuk, Dawn Henson and Alexandre Botella

It's been a difficult week so far for the 200 students taking part in Concordia's 18th annual MBA International Case Competition. The participants have spent the past few days cooped up in rooms at the Queen Elizabeth Hotel, solving complex business problems under tight deadlines.

But that's nothing compared to what three Concordia students went through putting together the week-long event, which wraps up Saturday.

Alexandre Botella, Carl Tischuk and Dawn Henson, all second-year Master's of Business Administration (MBA) students, have been putting in 18-hour days since last May, making sure that the competition, the biggest in the world of its kind, goes off without a hitch.

And while the event is supposed to provide the competitors with a taste of the outside world, the organizers say they, too, have quickly learned about life in the fast-paced business world.

"It's like starting up a business," Botella said of the preparations. "We had to find money, chase after people, and make things happen on three or four fronts at the same time."

"Nothing came easy," added Tischuk. "Everything involves a lot of groundwork and a lot of phone calls. And then, when you think you're finally getting somewhere, two weeks later you still don't have an answer."

Gluttons for punishment, you say? Well, this trio wouldn't have it any other way, especially after working as volunteers at last year's competition, which proved to be a huge success despite following on the heels of the ice storm.

Organizers receive six credits for their efforts and are excused from writing one research paper, which seems like a small reward for what is, in essence, a full-time job. But they say their efforts are outweighed by the opportunity to work alongside a board of directors made up of the presidents and CEOs of top local companies.

"It was all worth it," Tischuk said. The group outbid two others last spring to win the right to organize the competition. "The presidents and CEOs that we work with are guys that we would never be able to approach otherwise."

In addition to arranging team participation and researching business cases, the three organizers were also charged with securing the $150,000 in corporate support needed to stage the event.

"It's always a challenge to get people to buy into the fact that an MBA program would need money,"
Henson said, "but if you can sell people on giving you money, then I think you can do anything."

The competition pits teams of four MBA students against each other in a round-robin format as they attempt to solve complex business cases. Teams are presented with real-life case studies and are given three hours to develop solutions, which they then present to a panel of judges.

A record 32 teams are taking part in this year's competition, including entrants from Sweden, Germany, Mexico and New Zealand. The top nine advance to Saturday afternoon's semi-final round, with three vying for scholarship prizes later that evening.

The judges include senior executives from top Canadian companies, including Noranda, Toronto Dominion Bank, Bombardier and MPACT Immedia. <! _______________________________________________________________________________>


Copyright 1998 Concordia's Thursday Report.