! THURSDAY REPORT ON-LINE> <! 14/01/99 Issue> <! By: S. Mehrad B.Eng. For comments and problems contact: technical@mehrad.qc.ca> <! http://www.mehrad.qc.ca>


<! ________________________________________________________________________________>
Stingers' Benoit Richard goes to Slovakia with Canadian hockey team
University Games: The goalie is ours
by Derek Cassoff
---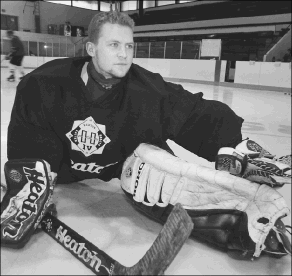 In the imprecise world of hockey, there is no shortage of reasons why otherwise talented players fail to ascend to the professional ranks. Some are deemed too small, others too slow. Some just don't play well under pressure.
Yves Beaucage, head coach of Concordia's men's hockey team, just shrugs his head when asked why Benoit Richard hasn't been able to turn his enormous goaltending skills into a professional career. Every once in a while, the coach says, a top prospect just falls through the cracks, his potential unnoticed by the legion of scouts.
That is about to change for Richard, who is now in his fourth and final season with the Stingers. He is one of three goalies selected to represent Canada at the World University Winter Games, which begin next Thursday in Propad-Tatry, Slovakia.
The Canadian squad is made up of all-stars from the 16-team Ontario University Athletics (OUA) league, of which Concordia is a member.
"It's something special to represent your country overseas," said Richard, a 23-year-old Chambly native. "I'll probably be a little nervous, but I play my best hockey under pressure."
The tournament is expected to attract a barrage of scouts. This is just fine with Richard, who says he would like to pursue a professional hockey career in Europe after he completes his biochemistry major in the spring.
"I'm certain that he'll have the opportunity to show off his wares on the European front," said Concordia Athletic Director Harry Zarins, who will travel with the team as chef de mission of the Canadian delegation.
"The World University Games don't get much publicity in North America, but they're very popular in Europe and the rest of the world," said Zarins, who also served as Team Canada's chef de mission at the 1993 Summer Games in Buffalo, N.Y.
Athletes from 43 countries are set to compete at the Games, which are held every two years. Medals will be awarded in 10 sports, including ice hockey, alpine skiing and snowboarding.
The hockey team enters the tournament as one of Canada's best hopes for a medal. They play in a pool with Finland, Ukraine, Kazakhstan and South Korea.
"We don't really know what to expect, but past experience tells us that we'll face some pretty strong teams," Richard said.
What Canadians can expect, at least according to Beaucage, is strong goaltending from Richard, who has developed into one of the top netminders on the Canadian collegiate scene. This year is certainly no exception; Richard is off to his fastest start yet, having posted a 9-3-1 record and a solid 3.01 goals-against average in league play. He is one of the main reasons why the Stingers are currently ranked fifth in the country.
"The key thing in goaltending is to be able to follow the puck at all times, and Benny is able to do that because of his ability to focus for a long period of time," said Beaucage, who recruited Richard out of CEGEP College Français. He says Richard stands a good chance of signing on with a pro team next fall.
"He may not get a $25-million contract," Beaucage said, "but with his capabilities, he could definitely earn a few dollars playing hockey."
<! _______________________________________________________________________________>

Copyright 1998 Concordia's Thursday Report.