! THURSDAY REPORT ON-LINE> <! 14/01/99 Issue> <! By: S. Mehrad B.Eng. For comments and problems contact: technical@mehrad.qc.ca> <! http://www.mehrad.qc.ca>


<! ________________________________________________________________________________>
Dynamic model UN team wins prize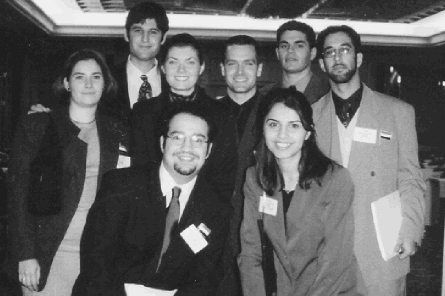 Seen here in Chicago, flushed with victory, are members of Concordia's Model United Nations Club, who competed in the American Model UN in November.
Standing are Myriam Cobo, Mitchell Belfer, Natalie Roberge, Jess Dungan, Omar Aboud and Mohammed Zigby. Seated are Tarek Bach-Baouab and Lamis Abulkhair. Zigby and Abulkhair took the award for Best Delegation to the 160-member legal committee.
Teams from 80 universities took part in the mock general assembly, in which students presented the interests of countries around the world.
Concordia's team had drawn Syria. Abulkhair reported that the Concordians made such a dynamic impression that Syria suddenly became the third most popular country (after two superpowers) in the post-simulation draw for next year's assignment.
Concordia's Model UN Club, which was in the doldrums for a few years, now has about 40 active members. They will send a team to an assembly at McGill this semester, and then raise money for a meet at Harvard. For enthusiast Abulkhair, who headed the delegation to Chicago, a job at the United Nations would be heaven, and she is plotting her next academic moves in that direction.
<! _______________________________________________________________________________>

Copyright 1998 Concordia's Thursday Report.