! THURSDAY REPORT ON-LINE> <! 13/05/99 Issue> <! Site Designede and Developed by: S. Mehrad B.Eng. For comments and problems contact: technical@mehrad.qc.ca> <! http://www.mehrad.qc.ca>



<! ________________________________________________________________________________>
Corinne Swirsky named top CIAU woman athlete
by Derek Cassoff
---
For four years now, Corinne Swirsky has delighted Concordia sports fans with her dazzling play as a member of the University's women's hockey team, overpowering opponents with her blazing shot and tendency to score dramatic goals.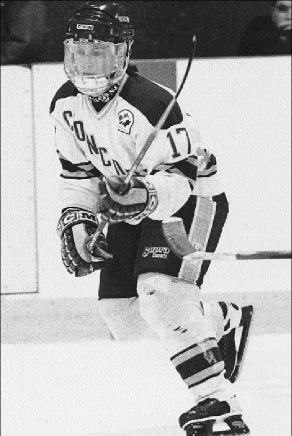 Let us safely say that the secret is out.
Swirsky, a fourth-year Exercise Science student from Thompson, Man., cemented her status as one of Concordia's best-ever athletes earlier this month when she won the Howard, Mackie Award as top female athlete in the Canadian Interuniversity Athletic Union (CIAU).
She is the first Stinger -- male or female -- to win the award in its seven-year history. Alexandre Marchand, a track star from l'Université de Sherbrooke, won the male honour. Each received a $5,000 graduate scholarship and a hand-crafted trophy.
Swirsky, a three-time Female Athlete of the Year at Concordia, was the clear favourite among the five finalists heading into the balloting, said Les Lawton, head coach of the Stinger's women's hockey team.
"Nobody had anything close to what she had," said Lawton, who accompanied Swirsky to the awards banquet at the Jack Singer Concert Hall in Calgary.
Lawton said he expects the honour to provide Swirsky with a big confidence boost as she chases her final and, thus far, most elusive goal, a berth on Canada's national women's hockey team in time for the 2002 Winter Olympics.
The national coaches have so far passed on Swirsky in favour of older players with more international experience. That may change given Swirsky's strong performance on Canada's under-22 team last December. She scored seven goals and recorded three assists during six tournament games in Germany.
Swirsky has been one of the most dominant offensive forces in Canadian university hockey since arriving at Concordia in the fall of 1995. This past year, she scored 39 goals and 66 points in 31 games and led the Stingers to their second straight national championship. She was named most valuable player of the Theresa Humes Invitational and University of New Hampshire tournaments and was honoured as most valuable women's hockey player in Canada for the second straight year.
When she's not skating circles around opponents on the ice, Swirsky keeps busy as a volunteer, working with underprivileged kids at the Pointe St. Charles YMCA. She also works as an instructor at Concordia's hockey skills camp. <! _______________________________________________________________________________>



Copyright 1999 Concordia's Thursday Report.