! CONCORDIA'S THURSDAY REPORT ON-LINE> <! January 13, 2000 Issue> <! Site Designed and Developed by: S. Mehrad B.Eng.> <! For comments and problems contact: technical@software-farm.com> <! http://www.software-farm.com>



<! ________________________________________________________________________________>
In brief
Conference on copyright issues
A daylong conference will be held at Concordia on Friday, January 28, on the relationship between information technology and authors' rights.
The discussion will cover Canadian legislation in the field, and the access to and fair uses of authored material, from the points of view of the author, the university and the end user.
The keynote address will be given by Marybeth Peters, Register of Copyrights at the U.S. Library of Congress and author of Report on Copyright and Digital Distance Education.
The conference will be available live on the World Wide Web. For more information, please consult the site http://www.crepuq.qc.ca/NTIC/DA/ or call Evelyne Abitbol, Public Relations, Concordia University, at 848-4879.
Going for gold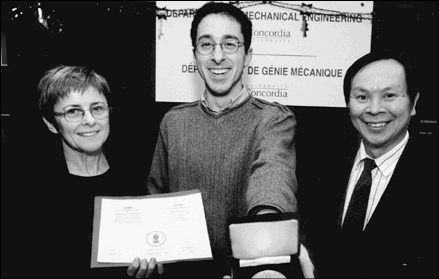 Graduate student Raffaele Delogu (centre) got a fine Christmas present in the form of a gold medal. At the pre-holiday celebration held by the Department of Mechanical Engineering, Delogu was presented with the Canadian Society for Mechanical Engineering (CSME) Gold Medal, an annual award for extra-curricular activity and academic excellence. The medal was presented by Department Chair Dr. Van Suong Hoa (right) and CSME student chapter advisor Professor Eliza Haseganu.
Concordia's new Research Fellows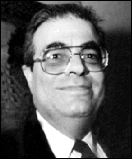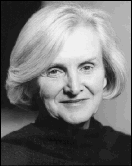 The Concordia University Research Fellows for 2000 will be Marketing Professor Michel Laroche and Psychology Professor Jane Stewart.
The honours were announced by Dean of Graduate Studies and Research Claude Bédard just before Christmas. Stewart and Laroche will each receive $5,000 and an invitation to give a public lecture sometime this year.
Last-minute push pays off
* Lise Tavares (Information Services) reports that the charity drive for local charities started slow, but when the deadline was extended, material poured in.

Contributions of non-perishable food, clothing, toys and staples were sorted, and "our great guys in Distribution" collected 27 boxes of shampoo, laundry soap, miniature chocolate bars and various samples. The results filled 73 boxes for the men of Benedict Labre House and the women of Chez Doris. Thanks to everyone who was part of this generous effort.

* Every year, the staff of Concordia University Libraries hold an auction to raise money for charity, and once again, according to Boi May Ang, it was a great success. The raffle winners and committee members are too numerous to mention here, but the event raised $2,800 and the lunch was delicious.

* Thanks to an initiative by Lina Lipscombe, Director of the Concordia Bookstores, a percentage of sales of the carol sing-along recording and story book released this season by the local CBC went to the Montreal Association for the Blind, who have helped Concordia's visually impaired students, among many others.

<! _______________________________________________________________________________>




Copyright 2000 Concordia's Thursday Report.