! CONCORDIA'S THURSDAY REPORT ON-LINE> <! January 13, 2000 Issue> <! Site Designed and Developed by: S. Mehrad B.Eng.> <! For comments and problems contact: technical@software-farm.com> <! http://www.software-farm.com>



<! ________________________________________________________________________________>
Being a UN delegate is an exercise in empathy
by Anna Bratulic
---
Sometimes you have to give up your nationality in order to win. That's the case with model United Nations debates. At a recent competition in Chicago, Chad Burkhart, of the Concordia Model UN club, represented Singapore.
"Some of the marks are for role-playing," said Burkhart, a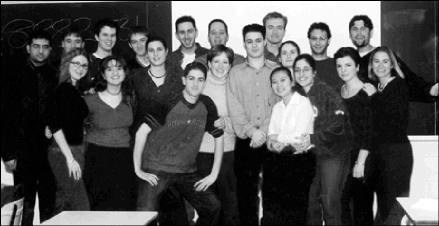 fourth-year Political Science major who is interested in a career in international relations. "I stop being a Canadian at that point, and I become a Singaporean."
The Chicago conference simulated the World Health Organization (WHO), one of the many agencies of the UN. The main topics on the agenda were reproductive issues, and communicable diseases and immunization.
Model UN clubs are part of student life in many universities around the world. Participation gives members the opportunity to learn about other countries and world politics, and to sharpen their debating and negotiating skills. As they "represent" other countries in simulated UN conferences, they debate issues the way a real diplomat would.
"You have to research not only the issues at hand, but how your country voted in the past on these issues," Burkhart said. Members do not simply argue, they formulate resolutions, too. This requires a through understanding of their country's interests.
Myriam Cobo agreed. "If you make a mistake, then your whole country makes a mistake," she said with a laugh. While the conferences can be tense -- think Russia/Chechnya, Israel/Palestine, India/Pakistan -- and delegates can get desperate for some statistics to bolster their arguments, in the end, it's all make-believe.
"You realize the fun of being a student because you have an opportunity to escape real life," Cobo said. "Here, you can be someone else and people respect you." Cobo is studying French and English literature, but she's really hooked on the model UN club. "It's like a drug. I'm serious -- I feel like I have an addiction."
The club received six awards at the last conference at the National Collegiate Security Conference in Washington D.C., and earned accolades for the performance of some of its individual members. They out-performed more established universities like McGill and Princeton. Harvard University and the University of Virginia have invited the Concordia team to attend future conferences held at their campuses.
Concordia's Model UN club has about 40 members this year. The students pay most of their own travelling and accommodation expenses, which limits the number of delegates who can travel any distance, such as to an upcoming conference to be held in Greece. A recent Gazette article about the club's tiny budget quipped: "Like its UN model, club has cash woes." The club's fundraising committee is now looking for financial support in the private sector.
Concordia students interested in joining should attend the weekly meetings on Fridays from 1-3 p.m. in the Henry F. Hall Building. Students must show up at 80 per cent of the meetings to become members -- they take attendance.
To make a donation to the group's activities, or to join them, please contact the president, Mitchell Belfer, at 933-2063.
The budding diplomats of the Model UN Club meet to plan for their next competition. <! _______________________________________________________________________________>



Copyright 2000 Concordia's Thursday Report.