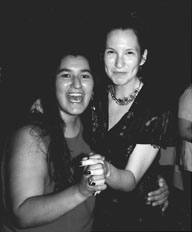 Anthropology undergrad Suzanne Bate (left) takes a whirl with Catherine Mattes, Master's of Fine Arts, at the First Nations graduation party in Old Montreal.



A record 27 Native students will graduate from Concordia this spring, more than double the number last year.

Among them were a number of firsts, including Sereen Kahentiiostha Meloche, the first female Bachelor of Commerce from Kahnawake, and two students in the special Cree BA in Applied Social Sciences, Annie Herodier and Rose Sam-Langer, who did much of their study at home in Chisasibi, in Quebec's north.

Manon Tremblay, coordinator of the Centre for Native Education, reports that enrolment has steadily risen since the Centre opened its doors in 1992.

"By the time I started working there in September 1995," Tremblay said, "62 Native students had been identified at Concordia. This number has swelled to 176 for the 1997-98 academic year."

Of the 176, 130 are women, and most are older than recent CEGEP graduates; 52 per cent are over 35.

"The current Native students are the first generation to access post-secondary education in acceptable numbers," Tremblay said, "but we still have a ways to go." High-school dropout rates are still very high.

"Since today's kids can't model their higher education goals on their parents' achievements, they are the ones leading their parents. It's an interesting phenomenon."