! THURSDAY REPORT ON-LINE> <! 11/02/99 Issue> <! Site Designede and Developed by: S. Mehrad B.Eng. For comments and problems contact: technical@mehrad.qc.ca> <! http://www.mehrad.qc.ca>



<! ________________________________________________________________________________>
Stingers women's hockey team: Quietly confident
by Derek Cassoff
---
Sue Kaye could have gone just about anywhere after graduating from high school.
Armed with hockey skills the likes of which are rarely found in teenage girls, Kaye had offers to attend several colleges in the United States, including Dartmouth College and the University of Maine. Or she could have chosen to stay close to her Truro, N.S. home, perhaps enrolling at Acadia or Dalhousie, where she surely would have become a hometown favourite.
Kaye, 18, packed her gear and headed to Concordia. "I heard that Concordia had a good program, with good coaching, and I wanted to be able to play and practise with the highest level of players," she said recently. In her first season of university hockey, Kaye has already emerged as one of the top defenders in the Quebec Student Sports Federation.
Thanks in large part to their ability to recruit top young players like her, the Stingers women's hockey team, long the class of North American college sports, is on track for yet another dream season. Barring a major upset, they should have little trouble repeating as national champions at the Canadian Interuniversity Athletic Union's (CIAU) second annual women's hockey championships. The tournament takes place between February 25 and 28 at the University of Toronto.
"Every team has its weaknesses," said Les Lawton, now in his 16th year as the team's head coach, "but our players know what their roles are, and if they all maintain those roles, we'll be all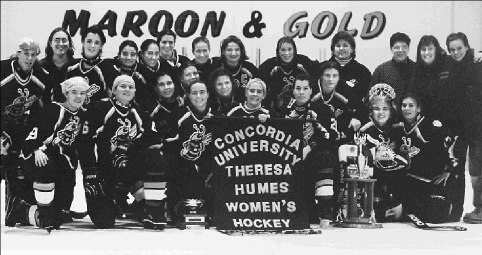 right."
Lawton has earned the right to be somewhat cocky, given his team's enormous success. The Stingers have won eight of the last nine provincial crowns and 14 of the last 18, winning more than 70 per cent of their games since Lawton took over as head coach in 1983.
This year has proven to be no exception. The club is 10-0-1 in league play and 23-4-2 overall. They recently won the Theresa Humes Invitational Tournament for the seventh straight year and finished first at the Border Battle, knocking off the host University of New Hampshire club, the defending U.S. women's university champions.
It all makes for a welcomed catch-22 for Lawton; the better the team does in the standings, the easier it is to attract the best high school and CEGEP players. That, in turn, breeds more success and an easier time on the recruiting trail.
"Most of the good young players across the country know about Concordia and when they decide to attend university, it's always at the top of the list," he said. "And with most of the girls staying for their full four or five years, our turnover is consistently low, so we are really able to focus on certain positions that we need to fill each year."
Along the way, Lawton has had a front-row seat to witness the enormous growth of women's hockey. Back in 1990, there were 6,000 girls registered on women's teams in Canada and the sport was only offered at a handful of universities. Today, thanks in part to the introduction of a world championship in 1990 and the sport's debut at the 1998 Winter Olympics in Nagano, more than 35,000 Canadian girls play the sport and 22 universities in Canada offer the program.
Lawton figures that the creation of a national championship at the college level will only make the university option more attractive to young girls.
"The players like to shoot for a major championship," he said. "It's also where they get seen, where they get evaluated by members of the national team coaching staff."
Winning last year's inaugural title was a career highlight for fourth-year Stinger Corinne Swirsky, who is already a member of Canada's national under-22 team.
"Concordia has always been a women's hockey powerhouse, so it was only fitting that we won the first one in our own building," she said. "If we play like a team and remember not to take anything for granted, we should be able to do it again." <! _______________________________________________________________________________>


Copyright 1998 Concordia's Thursday Report.