! THURSDAY REPORT ON-LINE> <! 11/02/99 Issue> <! Site Designede and Developed by: S. Mehrad B.Eng. For comments and problems contact: technical@mehrad.qc.ca> <! http://www.mehrad.qc.ca>



<! ________________________________________________________________________________>
Native adoptees have an advocate
by Alison Blackduck
---
When Suzanne Bate took the podium last weekend at a graduate students' symposium, she gave herself and others like her a bigger place in Canada's past, present and future.
She was one of 16 student presenters at History in the Making V: History in the Millennium from Antiquity to Modernity, which took place February 6 and 7.
Bate, 27, is a Metis from Alberta who was put up for adoption at birth in 1972. Bate was named Sheila by her biological mother. The non-Native family that adopted her out of foster care when she was six weeks old named her Suzanne.
Today, Bate is a fourth-year Anthropology student at Concordia University. She presented her paper "Loss of Native Identity and Culture Through Adoption and Assimilation" to an audience made up of academics and a sizable group of Native adoptees.
The paper is about the federal and provincial government's repeated attempts to assimilate Native people, first through Christianity and the residential school system and, starting in the 1960s, by placing Native children in either adoptive or foster homes.
"In 1959," she told the audience, "Native children made up less than one per cent of all children in care. By the 1970s, 30 to 40 per cent of all children in care were Native, even though Natives made up less than four per cent of the population."
Part of the reason for the marked rise in numbers, she stated, is because, in 1961, the federal government gave provincial welfare agencies the mandate to go into any Native home on- and off-reserve and apprehend any children the social workers felt weren't being properly cared for.
"The social workers could apprehend children simply because the family was poor or did not fit their white, middle-class expectations of what a family should be," she said. "Traditional Native families are not nuclear. They are extended, and children are considered a community responsibility."
But, she said, the social workers and the governments they worked for didn't take into account that many Native families were either dysfunctional or poverty-stricken, or both, simply because of the harsh restrictions of the Indian Act and the damage done to individuals and families by the residential schools. Native people in Canada didn't have the franchise until 1969, so they weren't even considered full citizens.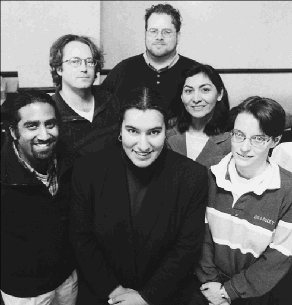 "I felt good about being up there," Bate said after her presentation. "I still have a lot to learn, but I got my toes wet as an academic." Bate is also the president of the newly formed group Advocacy for Native Adoptees. When asked if she attended the conference as an academic or an activist, she confidently replied, "Both."

"I thought it would be a good experience and a chance to raise more awareness about the issue. It's going to be published, and having it published means a lot because there isn't a lot of information out there on the issue."

Getting work published is one of the main reasons for the conference, said Jason McLinton of the Concordia Graduate History Students Association. He helped organize the two-day conference, and also presented his paper, "Historical Imagery and the Construction of Civic Identity in 16th-Century York."

"The purpose of the conference is to have a forum where graduate students and upper-level undergraduates can bounce their ideas off a larger intellectual audience," he said, then slyly added, "It also pads our CVs, which helps us out later when we're applying for doctoral and post-doctoral programs."

Students came from New York University, York University, the University of Western Ontario, and the University of Guelph to participate in this year's conference. That, says McLinton, proves that History in the Making is definitely "gaining acceptance as the years go by."

The panels included a discussion of "The Construction of Canadian Identity" with Professor Ron Rudin and Ian McKay (Queen's University), and another called "Who Stole Canadian History in the New Millennium?" with Professor Graeme Decarie and PhD candidate Pat Reed.

Some of the participating students at the History in the Making symposium are (starting at left and going clockwise) Amar Khoday, Mark Proudman (McGill), Jason McLinton, Dolores Houseman, Nancy Renwick and (in front) Suzanne Bate.

<! _______________________________________________________________________________>



Copyright 1998 Concordia's Thursday Report.