! THURSDAY REPORT ON-LINE> <! 11/02/99 Issue> <! Site Designede and Developed by: S. Mehrad B.Eng. For comments and problems contact: technical@mehrad.qc.ca> <! http://www.mehrad.qc.ca>



<! ________________________________________________________________________________>
Ergonomics expert relieves that aching back
by Frank Kuin
---
Concordians who suffer from aches and pains in their backs, shoulders or arms, or who find their offices too hot, cold, stuffy, stale or smelly, may want to talk to Christine Sidhom. She's not a doctor, but she is the University's expert on ergonomics, the study of the well-being of people in their working environment.
Sidhom, industrial hygienist and prevention coordinator at Concordia's Environmental Health and Safety Office, is available to anyone working in the University. When asked, she comes to assess air and light quality and the use of office furniture and equipment, and to make recommendations for improvement.
She always knows an ergonomically bad situation when she sees one. "Are you comfortable?", she asks the CTR reporter in her office, whose legs are up against the closed side of her desk as he bends forward in a conference chair trying to reach for his notebook. "You haven't got a lot of leg room there."
When assessing someone's office setup, Sidhom spots problems in the same manner. She checks a number of factors, such as computer monitor height, adjustability of the chair, height of its armrests, availability of lumbar support, leg room, positioning of keyboard, mouse and phone. Depending on what the person uses most, she will suggest ways to arrange the desk in order to avoid discomfort. Remedies can be as simple as adjusting a chair or keyboard, or bringing pieces of equipment closer together.
"People should listen to their bodies," she said. "It sounds very touchy-feely, but that's the basic thing. If they do feel pain, they should let us know." If people wait too long, Sidhom added, ergonomic problems can lead to such disorders as tendinitis, an inflammation of the tendons, or carpal tunnel syndrome, the compression of the nerve that passes through the wrist.
Ergonomic problems often stem from the same source, Sidhom explained. "Some stations at Concordia were set up for typewriters, not for personal computers. Not all furniture has advanced with time." Older desks with secretary runoffs are common -- wide enough for a typewriter, but not for a keyboard and a monitor. Alternatively, the computer is placed on a non-adjustable desk, but then the keyboard is usually too high.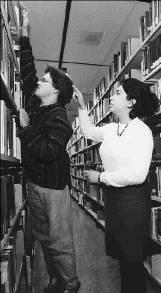 "The best thing to have for an ergonomic workstation is as much adjustability as po ssible," she explained. Sidhom has an MSc in occupational health and joined Concordia in the summer of 1997. While she always strives to improve a situation with the equipment that's already there, she sometimes recommends the purchase of a new piece of furniture. "It is up to each department to ensure that they have what's adequate for their workers."

Apart from focusing on the equipment, Sidhom also recommends exercises to prevent muscular skeletal disorders or repetitive strain injuries (RSI). Work breaks are a must -- even 'micro-breaks,' just getting up every now and then. And there are certain stretches for arms, legs, back and shoulders that can break the repetition of desk work. "We weren't made to sit still in the same position for hours at a time," she observed.

Ergonomics are just one of the responsibilities of the department of Environmental Health and Safety. Sidhom also checks the air quality in Concordia buildings, while her colleagues keep track of other factors, such as fire safety and hazardous materials management. As Sidhom noted, "there are a lot of offices where work can be done."

Christine Sidhom gives general training sessions twice a year for anyone who wants to know more about office ergonomics, ways to improve their workstations and avoid injuries. The next one will be held on Tuesday, February 16, at 10 a.m. in A-400 (1420 Sherbrooke St. W., where the HR offices are). To reserve a spot, call Carmelita Swann at 848-3668.

<! _______________________________________________________________________________>



Copyright 1998 Concordia's Thursday Report.