! THURSDAY REPORT ON-LINE> <! 10/06/99 Issue> <! Site Designede and Developed by: S. Mehrad B.Eng. For comments and problems contact: technical@mehrad.qc.ca> <! http://www.mehrad.qc.ca>



<! ________________________________________________________________________________>

Order the champagne

by Sami Antaki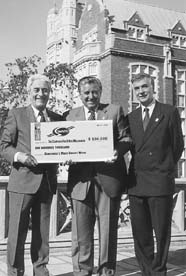 Summer's here, and the Campaign for a New Millennium is sizzling. Recent gifts, including $500,000 from the Concordia University Alumni Association and $100,000 from the Saputo family have brought the total of confirmed pledges to a goal-nudging $54,704,347.

It's safe to say that with more than 100 solicitations to be concluded, the Campaign will beat its minimum $55-million objective. How much more will be determined over the course of the summer and announced during the official closing celebration on October 1. (Part of Homecoming 99, the closing ceremony will feature Andrew Homzy leading a 16-piece big band, starting at 11 a.m. in the Concordia Concert Hall.)

"This Campaign has been a winner from the very beginning," said Campaign Executive Vice-Chair Don Taddeo. "Our volunteers and donors set the pace early and then maintained a steady clip throughout the three years. I'm very gratified to have worked so closely with so many people who care about Concordia and want it to assure its ongoing development."

Among those who have stepped forward with pledges in recent weeks is the Concordia University Alumni Association (CUAA). The CUAA, whose commitment is longstanding, as evidenced by its annual scholarship awards, has been a firm supporter of the Campaign since its earliest stages.

The Association has worked behind the scenes to make sure the Campaign succeeds, orchestrating and hosting last fall's Molson Centre EXTRAvaganza. This CUAA fundraising event was the most successful in the Association's history and raised $94,000 of its $500,000 pledge. The balance of the CUAA's gift will come from money it has set aside for the Campaign, personal gifts by board members, anticipated revenue from alumni affinity programs and future fundraising events.

"We're very pleased to be supporting Concordia's Campaign to such an extent," said Elaine Arsenault, CUAA board president. "We are all proud of Concordia. We wish success to those who continue to benefit from the University's enriching environment."

The CUAA pledge has been divided evenly between the libraries and scholarships/bursaries. "We want our gift to support the most students possible," Arsenault said. The CUAA will continue to place special emphasis on its relationship with current students so as to create a dynamic and lasting link between the University and its graduates.

Taddeo said, "The outstanding support we've received from the Saputo family, the CUAA and the other donors has given us the incentive to strive towards an internal challenge goal of $65 million. I'd like to invite the entire Concordia community to join us on October 1 to find out how close we got to this target."

<! _______________________________________________________________________________>




Copyright 1999 Concordia's Thursday Report.