! CONCORDIA'S THURSDAY REPORT ON-LINE> <! September 9th, 99 Issue> <! Site Designede and Developed by: S. Mehrad B.Eng. For comments and problems contact: technical@mehrad.qc.ca> <! http://www.mehrad.qc.ca>



<! ________________________________________________________________________________>
Of Note
Emergency procedures
Through the Environmental Health and Safety Office (EH&S), Concordia University makes available written material on emergency procedures, including emergency evacuation and medical emergencies.
Every staff and faculty member should have Emergency General Procedures for Members of the University Community. A copy may be obtained through the EH&S Office by calling 848-4877, visiting the EH&S Web site at http://relish.concordia.ca/EHS/index.htm or visiting GM-1100-50.
The Office also offers courses in cardiopulmonary resuscitation (CPR), emergency response and fire safety. For more information, please contact Donna Fasciano at 848-4355, or the Back Page of CTR.
Dean, Faculty of Commerce and Administration
Concordia University is seeking to appoint a Dean of the Faculty of Commerce and Administration to begin 1 June 2000.
Concordia's Faculty of Commerce and Administration is one of the most respected and largest business schools in Canada and one of the few schools accredited by the AACSB. The Faculty places strong emphasis on research and scholarship and on pursuing an intellectual climate in which varied inquiry about theory and practice of organizational systems can flourish. Concordia is recognized for its tradition of offering accessible, flexible and relevant commerce and administration programs. The Faculty strives for excellence and innovation in its undergraduate programs in administration and commerce, and in graduate Diplomas in Accountancy, Administration, and Sports Administration; a MBA, an Executive MBA and an Aviation MBA in partnership with IATA; and a MSc and a PhD in Administration. As an urban business school we welcome a bilingual and multicultural constituency and enjoy a high level of ethnic and cultural diversity among our student body (5000 students) and faculty (approximately 250 full-and part-time positions).
We seek a dynamic academic leader, whose entrepreneurial vision will guide the Faculty of Commerce and Administration into a new educational era, build upon our global positioning, our tradition of responsiveness to our region's needs, and our commitment to academic excellence in innovative ways. The Dean will have a strong track record in effective strategic planning in academia. He or she will advance the interests of the Faculty through fostering partnerships and joint ventures with organizations in both the public and private sectors, as well as strengthen collaborations with other institutions of higher learning. Fluency in French is a requisite to fulfill this mandate, in addition to demonstrated academic and administrative experience in business-related disciplines.
According to University policy, this appointment is normally for a five-year period and is renewable only upon an open search conducted by an advisory search committee. Therefore, the incumbent shall be submitting his application for consideration.
Applications and nominations, including a full curriculum vitae
and a one-page summary of relevant experience, must be received by 17 September 1999 and should be addressed to:
Diane Hastings, Executive Assistant to the Vice-Rector, Institutional Relations and Secretary-General, Concordia University, 1455 de Maisonneuve Blvd. West
MontrŽal, QuŽbec H3G 1M8
Concordia University is committed to Employment Equity and encourages applications from women, aboriginal peoples, visible minorities and disabled persons

.

3rd Annual Concordia Volunteers Book Fair
October 7 and 8 in the atrium
Be generous -- donate books of all kinds. Leave them at the loading dock in the Hall Building.
Volunteers are needed to sort books on the 10th floor of the Hall Building.
Last year, the Book Fair raised $5,000 for the Student Emergency Food Voucher Program.
Let's double it this year!
For information, call Barbara Barclay, 848-2449.
Director, Centre for Continuing Education
Concordia University is seeking a dynamic individual who can collaborate with and simultaneously lead a group of professionals to achieve outstanding results within a multi-faceted division of a university as it prepares to meet the challenges of the new millennium.
As Director of the Centre for Continuing Education you are committed to excellence in education. You are also entrepreneurial and innovative, forward thinking in operational methods, and possess solid management skills. You will oversee strategic planning and development of non-credit academic and professional programs and courses within the Centre's several departments and institutes, develop and implement growth strategies which include forming partnerships and establishing new working relationships throughout the University, within the business community, and the community at large. You are committed to capturing opportunities to secure profitable growth and to broaden the Centre's reach within local and international markets. You are up-to-date on developments in informational technology
as it relates to curriculum development, program delivery, and office systems management. Appropriate educational qualifications as well as functional bilingualism are required for this position.
This is a five (5) year contract position and is renewable. (The incumbent is not standing for re-appointment). Start date for the position is January 2000 or soon thereafter as the successful candidate can take up the position.
Interested applicants should forward a covering letter, along with a copy of their resume by October 15, 1999 to:
Ms. ValŽrie Gagnon, Executive Director, Department of Human Resources and Employee Relations, 1455 de Maisonneuve Blvd West,
Room: 503-3, MontrŽal, QuŽbec, H3G 1M8 or by Fax at: (514) 848-2844
or via e-mail: vgagnon@alcor.concordia.ca
In accordance with Canadian immigration requirements, priority will be given to Canadian Citizens and permanent residents of Canada. Concordia University is committed to Employment Equity and encourages applications from women, aboriginal peoples, visible minorities and persons with disabilities.

HOMECOMING 99
Thursday, September 30
Mordecai Richler
Abitibi-Consolidated lecture
"Canadian Conundrums"
Henry F. Hall Building
7 p.m.
Tickets are complimentary, but must be reserved.
Friday, October 1
Campaign for a New Millennium
Closing celebration
Concordia Concert Hall
11 a.m.
Saturday, October 2
Campus walking tours
9:30 Đ noon
Homecoming Cup/Shrine Bowl football game
Stingers vs. Redmen
1 p.m. kickoff
Post-game party in The Hive
Dinner theatre
"Ignatius and Georgina's Comedy Wedding"
Buffet Roma, St. Leonard
6:30 p.m.
Tickets: $65
Sunday, October 3
Mass and blessing of the academic year
Loyola Chapel
11 a.m.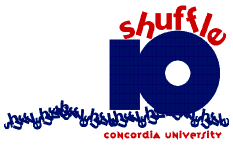 Friday, September 24, 1 p.m.
"Raising dollars for scholars"
25th anniversary launch in the atrium of the J.W. McConnell Building
6.5 km walk to Loyola Campus
Pledge forms can be picked up between 12 and 2 p.m. daily, beginning on August 30th, in the lobby of the Hall and Webster Library Buildings downtown, and in the lobby of the Administration Building at Loyola.
For more information:
25th Anniversary: 848-4825,
or e-mail 25thann@alcor.concordia.ca
Shuffle: 848-4979,
or e-mail weddell@coral.concordia.ca <! _______________________________________________________________________________>



Copyright 1999 Concordia's Thursday Report.