! CONCORDIA'S THURSDAY REPORT ON-LINE> <! September 9th, 99 Issue> <! Site Designede and Developed by: S. Mehrad B.Eng. For comments and problems contact: technical@mehrad.qc.ca> <! http://www.mehrad.qc.ca>



<! ________________________________________________________________________________>
Retirements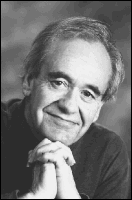 Harry Hill's long career at Concordia was celebrated by his many friends at a party in the Loyola Faculty Club on June 25.
It was something of a reunion for Professor Hill's former students, including some who have gone on to success in the entertainment industry. Bill Laurin, writer-producer of CTV's Power Play, paid him a heartfelt tribute.
Hill, a spellbinding teacher of Shakespeare and drama to several generations of students, has also made a significant contribution to basic literacy at Concordia. Picking up on a student initiative, he researched and developed the University Writing Test, which was made a requirement for every student in 1983. He continued to administer this massive examination right up to May 1999.
Hill has had a parallel career as an actor, which will continue in his retirement. His most recent roles give an indication of his range: the voice of Ernest Hemingway on an IMAX movie, a role in the English farce What the Butler Saw at the recent Just for Laughs Festival, and, coming up, the voice of a character in a 50-part animated series for children.
Elvis has left the building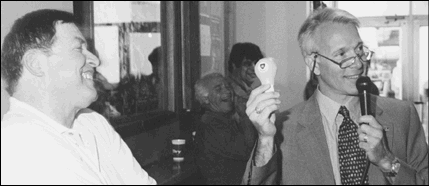 Donald Richard (at left), whose job it was to verify lighting, retired from Physical Resources in June. His friends and colleagues, including Vice-Rector Services Charles Emond (at right, holding a light bulb) made his interest in Elvis Presley the theme of a lively going-away party.

<! _______________________________________________________________________________>




Copyright 1999 Concordia's Thursday Report.