! THURSDAY REPORT ON-LINE><! 08/10/1998 Issue><! By: S. Mehrad B.Eng. For comments and problems contact: technical@mehrad.qc.ca><! http://www.mehrad.qc.ca>
---
Now in progress. . .
Volunteers
Book Fair
Until 6 p.m.
Atrium, J.W. McConnell Building
Health and Safety Week
- October 18 - 24
Activities for everyone
October 20 - Concordia Concert Hall
October 21 - Hall Building lobby
---
Science College Lecture
Mechanisms of Brain
Development: Neuronal Sculpting by the Physical and Social Environment
Barrie J. Frost,
Max Bell Fellow, Canadian Institute for Advance Research, and Professor
of Psychology, Biology
and Physiology,
Queen's University
Thursday, October 22
8:30 p.m.,
Alumni Auditorium,
Henry F. Hall Building
This is a public lecture.
For more information, call 848-2595.
---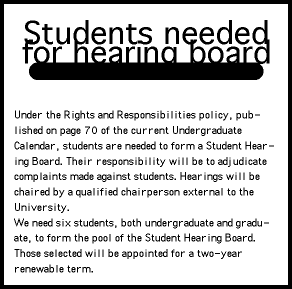 ---
Appointment
Rick Young has been appointed Acting Director, Maintenance Operations (Physical Resources). He replaces Helmut Regel, who left in April to assume a position with a consortium responsible for the management of federal government properties in Quebec.
Young has been with Concordia since 1976, holding successive positions in Physical Resources, including Manager, Capital Projects, and Director, Construction Services. In his new position, he will be responsible for the electrical, mechanical and architectural trades departments on the Loyola and Sir George Williams campuses.
We wish him every success in his new position.
<! ________________________________________________________________________________>



Copyright 1998 Concordia's Thursday Report.