Great Grads 2000
---
Benoît Goudreault-Émond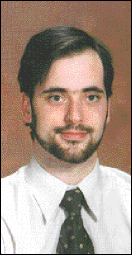 Benoît Goudreault-Émond seriously considered becoming a computer scientist, but he realized that "most computer experts think of the computer as just a black box. I wanted to learn how the whole thing worked."
He entered Concordia's Computer Engineering program, and did so well that he will receive at least three awards at the Engineering and Computer Science convocation ceremony: the Computer Engineering Medal, for which his relevant grade-point average is 4.29, the Chait Medal for top Bachelor of Engineering student (GPA 4.25), and the top award for a graduating student for the whole university, a tie with another student, for which his GPA for all the courses he took is 4.26.
Goudreault-Émond has always been a good student. He attended a private high school in Rosemont, then Collège Maisonneuve, where he was one of the outstanding graduates in the pure and applied sciences program.
He admits that work and study suit his temperament, but he also has some tips for aspiring scholars. "Keep the problem you're working on in mind and don't get distracted by side issues," he advises. "Try to learn as much as possible by yourself, and read a lot, or you'll become obsolete in a few years."
For a while, Goudreault-Émond is going to work full-time at Silanis Technology, a small software company where he has been employed in the summers.
However, he knows he'll go back to school, probably to do a Master's in Business Administration and an advanced technical degree.
- Barbara Black
---
Three of the best from the Science College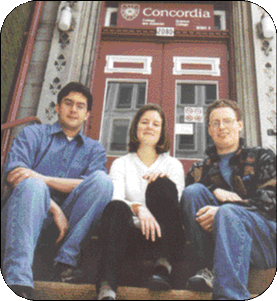 Anesthetizing and dissecting water striders, a kind of spider that "skates" on river banks, and then locating their reproductive organs, is not a typical skill, but it comprised a research project that Véronique Campbell did as part of the Science College curriculum -- and it helped her to understand concepts of evolution.
One of the attractions of Concordia's Science College is the opportunity students get to do three supervised research projects, of increasing difficulty, while they are still undergraduates. That's what interested Campbell, a Biology major with an Honours in Ecology.
Three research projects later, she is one of two recipients of the Governor-General's Silver Medal, and the winner of this year's Science College medal, awarded to the student with the highest grade point average at the college.
Having attended French-language schools all her life, Campbell came to Concordia, in part, to practise her English -- and she was perfectly prepared to do poorly as a result. "For the first month of school, I read my chapters in French and then reread them in English. After about one month I got used [to the English instruction], and it wasn't a problem any more," she said.
Campbell, 25, attributes her academic success to the two years she took off from school to think and travel. Her mother is an education consultant who works in Benin, a small country west of Nigeria, and Campbell visits her often. Together they travelled to several African countries, including Kenya, Gabon, Cameroon, Morocco and South Africa.
While in South Africa, she volunteered for three months with a marine biologist, helping her to study the dwindling mussel population off the coast. When it came time to return to school, the practical experience was invaluable. "After three months with the biologist, I noticed that the same concepts kept coming up in class over and over again, so I was familiar with them," she said.
Her next stop is the University of Alberta, where she will be doing graduate studies on the genetic diversity of Canada's lynx population.
John-Christopher Boyer, 25, tried several courses as an independent student before finally finding a niche in the world of physical chemistry. A few years ago, it wasn't clear what direction Boyer would be heading in. He, too, took some time off after finishing high school and worked for a few years at his father's clothes-dyeing company in Jamaica. While there, he took some courses.
"I was actually a pretty poor student -- I got 4 Ds," he said. "After four years of work, I applied to McGill and, with those grades, I didn't get accepted."
He was eventually accepted as an independent student at Concordia in 1997 and switched to Chemistry shortly after. Now he is graduating in Honours Chemistry with a GPA of 4.00 (4.30 is perfect).
His honours thesis was on laser spectroscopy. He examined the optical properties of glass and crystals that can be used in telecommunications. "I think it's really hard to do an honours project without any previous experience," he said. "The independent research projects [required by the Science College] helped a lot."
Boyer recently received a National Science and Engineering Research Council (NSERC) grant that will allow him to continue studying at Concordia with Professor John Capobianco.
Mixing the theoretical with the practical is how David Hambly went about completing his Hon ours Biochemistry program. In addition to being a member of the Science College, Hambly also participated in the Chemistry/ Biochemistry Co-op, which allowed him to do alternate semesters of work and school.
"From the time that I started school until December 1999, I think I took about one week off -- and that was for my honeymoon," he said with a laugh. "It was an extremely intense schedule."
Through the Co-op, he has worked for four-month stints at the pharmaceutical companies of Merck-Frosst and Boehringer-Ingelheim, where he focused on viral research, and also at the University of Ottawa.
He leaves Montreal on May 20 to settle himself in La Jolla (near San Diego), California, where he will be studying for a PhD in the macromolecular and cellular structure chemistry program at Scripps Research Institute.
What was the secret to his success? "I sit in the front. I take really good notes. I never memorize anything. What's the point of doing that? I figure that if I really make the most out of my time in class, then I won't have to spend as much time studying outside.
"That way, I maintain my social life. I have to, I'm married."
- Anna Bratulic
---
Jennifer Ng
The sky is the limit for Jennifer Ng. The Concordia graduate, who is receiving a Bachelor of Science in Actuarial Mathematics, conducted her studies while working as a flight attendant for Air Canada, taking her homework to places as far away as Los Angeles and Tel Aviv.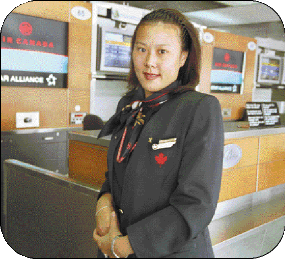 Ng, who came to Concordia in 1997, has worked for Air Canada for five years. She started as a summer temp, but has worked her way up to in-charge flight attendant, flying all over North America, the Caribbean, Europe and the Middle East, all the while pursuing her aim to become an actuary.
"I would go to school during the week and then I would work on my days off from school," Ng said. "I would bring my books with me and read on my layovers -- and even on the plane, when it is such a long flight that there is time to read. I used my little breaks for that."
Ng, who also has a BSc in anatomy from McGill, found it easier to reconcile her job with her studies at Concordia. "At McGill they have a stricter class schedule, where you can basically take only day classes," she said. "At Concordia it was a lot easier to plan my schedule. The last semester I took classes from Tuesdays to Thursdays, so I would work Fridays to Mondays."
Asked whether that was not too gruelling, Ng admitted that it "took a lot of getting used to." Although she sometimes would "drag her books around for three or four days without even opening them," most of the time she was able to use her time efficiently.
With her degree in hand, Ng is now preparing to take entrance examinations to become a licensed actuary. "I would like to work for a consulting firm," she said. Still, she is not keen to leave her work as a flight attendant behind. "I'm enjoying Air Canada right now," she said.
- Frank Kuin
---
Karen Tam
K aren Tam is very attached to her family. In fact, they are the source of her artistic inspiration, and have helped her create a body of work that has gained her entry to one of the world's best art schools, the School of the Art Institute of Chicago.
The family history is poignant, but it has a happy ending. Karen's great-grandfather came to Canada early in the 20th century, when he was a young man looking for work so that he could send money back to his young family. "A month's salary here was equal to a year's salary in China," she explained.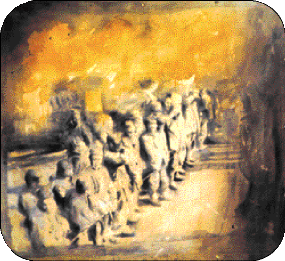 Because of Canadian government restrictions imposed on Chinese, the so-called Exclusion Act, her great-grandfather spent the rest of his life here, and it was only months before he died in 1967 that his family would immigrate to join him.
Tam's art has involved her family in many ways. One of her installations features a painting by Tam of her mother, flanked by two photos of her mother as a young woman mounted on typically Chinese wall dividers, "dividing the past from the present."
Another piece looks like two bookshelves mounted in a corner. Each holds a row of thick pieces of glass inscribed with Chinese characters, poems written by Chinese detainees on Angel Island in California. The light shining through the glass throws shadows of the calligraphy on the wall behind.
Yet another installation looks like a school desk, with a headset, five compact disks, and a set of notebooks. Tam recorded speech by members of her extended family in Toishanese, a rural Chinese dialect. She transcribed it phonetically into English, and then translated it into English.
Toishanese is dying in North America with each succeeding generation. Although she stopped speaking it at home when she decided "it wasn't cool," as she said with a laugh, now she's changing her mind.
While she started at Concordia in painting and drawing, Tam has moved into doing installations. She loves using all sorts of materials in new ways, including the incorporation of sound into her pieces, so in Chicago, she will do her MFA in sculpture.
- Barbara Black
---
Marie-Claude Lemieux
A year ago, Marie-Claude Lemieux had what most people would deem an enviable career as an up-and-coming lawyer at a prestigious Quebec City law firm, but it was a far cry from her true passion.
"Law is a situation of conflict for most people," she explained. "I've always just wanted to tell human stories."
After five years, she quit, and enrolled in Concordia's Graduate Diploma in Journalism program, choosing the intensive three-term program in print journalism.
Following a frenzied year in which she juggled full-time clas ses and a part-time job as a researcher for Radio-Canada's Denise Bombardier, Lemieux entered the ruthlessly competitive world of broadcast journalism.
Weeks of phone calls and two exhaustive interview sessions with CBC Newsworld landed her a plum summer position as a chase producer for the highly rated afternoon program Newsworld Todayin Toronto.
She is now expected to research the day's top news, track down the people behind the story, set up interviews with them and draft questions for Ben Chin, the on-air anchor. "It's different from print journalism -- it's all about images -- but the stories are the same."
She recently found herself in the thick of coverage of the deadly Walkerton, Ont., E. coli outbreak. While on location in the small town, she managed to track down the president of the Canadian firm that is providing an experimental antidote for the fatal bacteria and convinced him to explain how it works on air.
If the summer continues to be a success, she hopes to be offered permanent work at the CBC. That would be just the beginning for the 28-year-old Lemieux, who wants to be a foreign correspondent.
- Brad Mackay
---
Katherine Bosnitch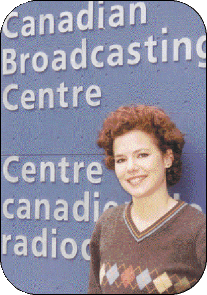 Katherine Bosnitch's graduate work is the stuff of coffee-table books. Bosnitch, who is receiving an MFA in Art History, traced the groundbreaking fashion advertising by the Montreal flagship store of Eaton's through the 1950s and 1960s, documenting what she describes as "gorgeous illustrations" in a pioneering style that were printed using cutting-edge colour technology.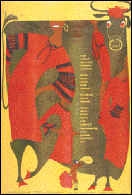 Focusing specifically on the work of three artists in advertising campaigns printed in The Gazette, Bosnitch painstakingly analyzed the style of Eaton's fashion illustration and its use of colour in all editions of TheGazette from 1952 to 1972. Eaton's was "very advanced" in the use of colour, she explained, while The Gazette was the first newspaper in Quebec to carry run-of-press colour ads.
"The ads revolutionized the style of advertising," said Bosnitch, explaining that Montreal illustrators were in the forefront of a move away from Expressionist drawings, toward a new style similar to poster art, such as that of French artist Toulouse-Lautrec at the turn of the century. The full-page ads in The Gazette, she added, were "absolutely spectacular."
For Bosnitch, herself a working fashion illustrator, the writing of her thesis is the completion of a mission. She was inspired to go back to university by a working stint in France, where she found commercial fashion illustrators were well respected and organized.
"In North America, commercial art work is rarely looked at from an art historical perspective," Bosnitch explained. "I wanted to write about commercial illustration because it's something that nobody writes about in this country. I wanted to give credibility to illustration, and document our history while the artists and their archival materials are still with us."
With her Master's project co mpleted, Bosnitch has "big dreams." Already, she has contributed to a book about the fashion industry that's being put together by the Royal Ontario Museum. In addition, she would like to exhibit or publish the drawings -- to spread the message about the work of Canadian illustrators.
Specifically, Bosnitch found that three Montreal artists -- art director Jack Parker and illustrators Eugenie Groh and Georgine Strathy -- "really did revolutionary work" for commercial advertising. "I would like people to realize that Canadians are accomplished in commercial illustration. We shouldn't always be looking abroad to hear about what everybody else has done."
- Frank Kuin
---
Suzanne Bate
Suzanne Bate just went on a $250 shopping spree at Zeller's because nothing in her wardrobe is suitable for the scorching heat of Senegal, to which she will be subjected for the next 10 weeks.
Her wardrobe was filled with black and other dark-coloured clothing, but she needs cotton and other airy fabrics. "You don't want to be attracting mosquitoes with malaria," she said wisely.
Bate, who majored in Anthropology with a minor in Religion, will be working on a community development project as part of an internship offered by Forces Avenir, a non-profit organization that rewards student initiative.
She was approached by representatives of Forces Avenir at a ceremony where Bate, 28, was receiving yet another accolade for her contribution to student life. She applied and was a finalist, but when some of the winners couldn't go on the internship to Africa, she happily agreed to go in their place.
"I dropped my plans, I quit my job and I've been studying the language," she said. Wolof, the language of the area outside the capital city of Dakar, where she will be working, is spoken very quickly by the natives. "I'll probably get the hang of it when I leave."
Bate has a shown a deep interest in alleviating student poverty. Four years ago, she began volunteering at Mother Hubbard's Cupboard by helping to cook the weekly vegan meals served to students for $1.
"I went there out of need because I was just flat broke. I had a buck fifty to my name. I didn't have anything to eat at home and I was hungry." For the next three years she was the volunteer coordinator of the Campus Ministry outreach program.
She has also volunteered for the Peer Support Program, the Concordia Women's Centre and the Centre for Native Education. Recently she co-founded a national non-profit support organization called Advocacy for Native Adoptees.
Born in Edmonton of Métis parents, she was adopted by a white family from B.C., and felt alienated at various times from both natives and non-natives.
Bate hopes to be accepted for another internship, this one offered by Pacific People Partnership and based in Tahiti. She will probably take a break from her studies for the next couple of years and is contemplating a stint as an English instructor in Japan to help repay a chunk of the student loan she has accumulated.
- Anna Bratulic
---
Veronica Promyshlianskaia
When Veronica Promyshlianskaia was awarded the Bank of Montreal Pauline Vanier MBA Fellowship, valued at $10,000 a year for two years, she decided she would go ahead and get her Canadian citizenship after all. She had her doubts about it, because it was a big move that would symbolically sever her from her past life.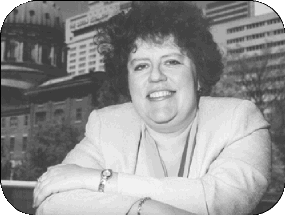 "It made me really very proud of Canada. I was a stranger, like someone from the street, not even a Canadian citizen. All I did was submit an application," she said in a phone interview.
The fellowship, named after the much-loved wife of a late Governor-General, is awarded to a deserving woman who has at least two years of business experience. But Promyshlianskaia, 37, seems to have fallen into the world of business by accident.
Back in Ukraine, Promyshlianskaia earned a degree in mechanical engineering from Kharkov Polytechnical University. She specialized in the dynamics and strengths of machines, a highly theoretical field that dropped in prestige and demand after the fall of the Soviet Union.
"Before that, all our engineering programs [i.e., work opportunities] were sponsored by the state. When the Soviet Union collapsed, it was hard to find work." She was hired to create software for an accounting firm, and her interest in business developed from there.
In 1997, a year after she arrived in Canada, she enrolled as an undergraduate in Accounting at Concordia, but was advised to switch to an MBA program by a professor who noted how she breezed through the courses with near-perfect grades. Eventually she found herself juggling full-time MBA studies with almost-full-time work at a downtown notarial firm, where she now works as a financial officer.
"My whole day was scheduled to the minute," she said. In the end, she added, the combination of practical experience from work with theoretical knowledge from class made her more qualified to do her job. "To study accounting from books [only] can make you lose a little bit of your qualifications, even with good courses. I believe you should practise every day."
As with many immigrants, Promyshlianskaia had to overcome the language barrier. "I couldn't speak English, only read and write a little bit. Nobody [in the former Soviet Union] expected us to communicate with people from the Western world."
Now she looks forward to reading authors like John Galsworthy and James Fenimore Cooper -- both very popular in Russia -- in the original English.
- Anna Bratulic
---
Rebekah Tolley
Rebekah Tolley has a passion for trees. For the past seven years, she has spent her summers planting them for lumber companies in Alberta, Ontario and northern Quebec.
The work is laborious. Planters are required to carry heavy loads of seedling on their backs for hours and bend down every few feet to dig a hole for the next tree. "It's really grungy and dirty," she said. In other words, it's perfect for artists.
The experience has given Tolley, a Studio Arts major (Printmaking) with a minor in Creative Writing, a lot to say about the state of Canadian forests and the forest industry. These ideas often find a voice in her prints.
That's her work on the cover of the winter issue of the cultural magazine Matrix. She superimposed a map on a picture of her back, her spine drawn in the shape of a rotting tree. As a writer/artist, she has made a number of handbound books. Printmaking has become a way for her to combine art and activism, and fortunately, she has been very successful at it.
This year, when she applied to the Master's programs of several American universities, she had no idea how she would pay the characteristically high tuition fees if she were accepted, but a few weeks ago, she was informed that she can continue to study printmaking on a $17,000 (U.S.) grant at the Tyler School of Art of Temple University in Philadelphia.
It wasn't always clear in what direction she would head. Coming from a family of engineers, Tolley was encouraged to study the sciences, in large part because of the potential employment security it offered, but "when my mother would ask me what I would do, I'd say, 'Mom, I want to do my own art.'"
After finishing high school, Tolley travelled for two years, backpacking through New Zealand, Spain and South America. "It was probably the best thing for me, because you get a chance to mature," she said. And it had another effect. "I wanted to go back and be a student again."
- Anna Bratulic
---
Muthukumaran Packirisamy
Muthukumaran Packiris-amy's doctorate grew out of a fascination with micromachines, those tiny devices the size of a human hair that can be made into motors, turbines, sensors, actuators, pumps and rockets.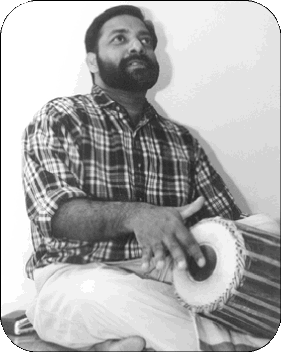 Thanks to developments in silicon technology, components only micrometres in size can be used to produce reliable, fast, miniaturized machines at low cost. MEMS (micro-electro-mechanical systems) components are being applied in defence, biotechnology, telecommunications, automobiles and many other areas.
"Their ability to collect and process information, compute the course of action and thereby manipulate the environment or a macro system make MEMS the product-differentiating technology for the next century," Packirisamy said. "My PhD research contributed towards understanding and solving some fundamental multi-disciplinary problems associated with the fabrication and vibration of these devices."
The behaviour of macro systems in nature is determined by micro-level mechanisms, whether it is at atomic levels for materials or at the cell level for biological organisms, he explained. The vibration of these microstructures is something like the vibration of musical instruments.
"I proposed a unified concept called boundary conditioning in order to study and manipulate the vibration behaviour of both micro and macro systems.
"As the understanding of the physics of these micro systems is not absolutely certain now, the use of mathematical operators that can absorb impreciseness of the system is helpful. The fuzzy logic approach is a very powerful tool to deal with such systems, as it applies approximate reasoning mechanisms on appropriately coded knowledge very similar to that of the human mind."
Packirisamy started his schooling in a small town in India called Kumbakonam, where, he said cheerfully, "I was the topper in all the schools."
He attended Regional Engineering College, Tiruchirapalli, and the Indian Institute of Technology, Madras, where he got his Master's of Science with the highest possible grades in all his courses. He also worked as a research scientist in India for six years.
"It was such a fantastic feeling when I got the offer from Concordia to do a PhD in MEMS along with a graduate fellowship and tuition fee remission award," he said. While he worked on his thesis, Packirisamy designed and installed a microfabrication facility at Concordia, where he was associated with the CONCAVE Centre.
Packirisamy got A grades in all six courses for his PhD program. His supervisors, Professors Rama Bhat and Ion Stiharu, say that his thesis was unique.
"It combined three areas in a very interesting fashion," said Professor Bhat. "He used the West Indian steel pan as an application example for the method that he was developing, and developed an interest in music as a result. He took up playing a classical percussion instrument about a year ago, and continues working on it."
Bhat added, "Muthukumaran set excellent examples for his fellow students. He was a team player, inspiring everyone with his calm and quiet demeanour. He was full of self-assurance in everything that he did."
Even before he completed his doctorate, Packirisamy was hired by MITEL Technologies, of Ottawa, where he is already hard at work on the research he loves. He expressed his gratitude to Bhat and Stiharu for their support, and added in an interview by e-mail, "I am proud that my research work contributed towards further establishing Concordia as one of the pioneers in the area of MEMS in Canada."
- Barbara Black
---
Anita Grace
Anita Grace, a Journalism Diploma spring graduate with a BA from the University of Saskatchewan, sent us this dispatch by e-mail from Europe.
La Via Podiensis is over 1,000 years old. Its trails meander through high mountain meadows, steep river valleys and through narrow cobblestone streets. And as it has done for millions of others, it leads me through France and Spain to Santiago de Compostella.
To follow an ancient pilgrimage was an idea inspired by the Canterbury Tales and provided for by a travel scholarship from the University of Saskatchewan. Not long after finishing Concordia's Journalism Diploma program, I found myself descending the great steps of Notre Dame du Puy-en-Velay Cathedral, beginning the 1,600-km journey to Compostella.
During the Middle Ages, the roads to this cathedral, built over the tomb of St. James the Apostle, were thronged with pilgrims. Churches, monasteries and hostels sprang up to welcome them. Even the kings of France joined these religious voyages.
Although interest waned after the 16th century, in recent years, pilgrimages to Compostella have been revived. Last year, more than 400,000 people successfully completed a pilgrimage to campus stellae -- Compostella -- the field of stars.
This summer, I am adding my footprints to those along the Chemin de St-Jacques. Each evening I sit at dinner with people from various corners of Europe and the world, and along the trail I meet pilgrims on foot, on bike and even on horseback. Walking an average of 25 km a day, I should reach my destination in two and a half months.
I find myself part of something greater than I ever imagined. Placing my feet where thousands have gone before, I join a journey based on history and faith, legend and myth.
---
Liliane Gondo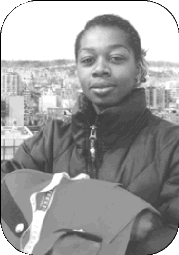 Liliane Gondo is trading in her burgundy Garnet Key blazer for the scarlet tunic of the Royal Canadian Mounted Police, now that she has her degree in psychology.
The Ivory-Coast-born Montrealer has big plans, but then, anyone who knows her would not expect any less. While studying psychology, Gondo has been involved in every facet of Concordia and community life.
As a member of the Garnet Key, she acted as a student ambassador at university events. With her ultimate goal to join the RCMP in mind, she has been involved with the Concordia Safety Patrol since 1997, first as assistant coordinator, and for the last two years as coordinator.
The Safety Patrol works to raise awareness about safety issues on campus, including providing security for students and offering self-defence courses. "It's reaching out to the community outside of Concordia as well as to the community inside Concordia," Gondo said.
Her extracurricular activities also include coaching girls' basketball at the YMCA and tutoring at the downtown Y and Walkley Family Centre. She plans to combine her academic training with the skills she has honed in security and serving her community to launch her career as a police officer with Canada's most prestigious force.
"I think definitely I will be applying my psychology degree," she said. "As a police officer, you are dealing with people. You need to understand their background and psychology, for example, to interact with a battered woman or children in a crisis situation."
While she is eager to set off for the RCMP training camp in Regina so she can join the labour force, Gondo has not closed the door on further education. The RCMP encourages its officers to engage in lifelong learning, and considering Gondo's gusto for challenge, she may well pursue a Master's or even a PhD.
- Frank Kuin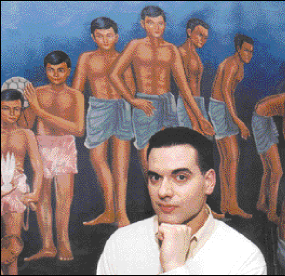 Convocation awards
* Governor-General's Silver Medal, for the highest-ranking undergraduate:Anne Véronique Campbell and Benoît Goudreault-Émond

* Birks Medal, for Bachelor of Arts: Afton Colby Lewis

* Anne Stokes Medal, for Bachelor of Education: Eric Lamoureux (fall 1999 graduate)

* Mappin Medal, for Bachelor of Science: Anne Véronique Campbell

* Administration Medal: Marianne Sheshko

* Charles E. Frosst Medal, for Bachelor of Commerce: Jean-Michel Langlois

* Chait Medal, for Bachelor of Engineering: Benoît Goudreault-Émond

* Computer Science Medal: Kun Han

* Alfred Pinsky Medal, for Bachelor of Fine Arts: Guy Laramée