! CONCORDIA'S THURSDAY REPORT ON-LINE> <! Oct 7, 99 Issue> <! Site Designede and Developed by: S. Mehrad B.Eng. For comments and problems contact: technical@mehrad.qc.ca> <! http://www.mehrad.qc.ca>



<! ________________________________________________________________________________>
Students' theatre design shown to the world
by Debbie Hum
---

Concordia theatre artists recently represented Canada at the Prague Quadrennial, the world's pre-eminent exhibition for scenic and costume designers and theatre architects.
Led by Assistant Professor Kairiin Bright, who was vice-commissioner of the Canadian exhibit, 10 Design for Theatre students had their work shown in the student category, along with work from other universities and colleges.
Concordia's student finalists were Carolyn Oord, Elise Dubˇ, Zara Faux, Michel Ostezawski, Natalie Nadeau, Angela Larotta, Maggie Greyson, Sophie Brunet, Xenia Buchmann and Lisa Conroy. Concordia alumnus Raymond-Marius Boucher (BFA 98) was one of 16 designers who represented Canada in the professional category.
"It was a wonderful time for Canadian theatre practitioners, educators and students to be together and enjoy this amazing city," Bright said. She recalled how the Canadians would meet every evening near the clock tower in the old square for cheap beer followed by an opera, the theatre or a nice dinner.
The Prague Quadrennial took place over three weeks last June, drawing participation from 48 countries and thousands of tourists from around the world. Over 50 Canadian designers attended the exhibition; Xenia Buchmann was the only Concordia student who was able to make the trip.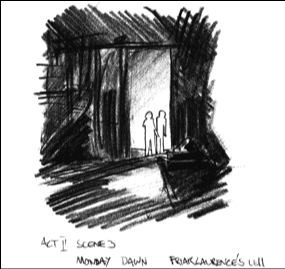 The Canadian student exhibit consisted primarily of flatwork -- renderings, pictures, production photographs and paintings of costume and set designs. Concordia's entries were culled from course work as well as university productions such as 1998's The Winds of Oz, Teeth and Playboy of the Western World, and 1999's Romeo and Juliet and Bernardo Bluebeard. The professional exhibit also featured models, maquettes and costumes by designers, including Susan Benson, Linda Brunelle, Robert Gardiner and Cameron Porteous.

"We tried to show the range of work in theatre in Canada. There were big names like the Shaw and Stratford Festivals, but there were also quite a number of smaller venues represented," Bright said. "Our work was quite disparate, which reflects our inclusiveness, whereas many of the other countries presented a united statement, or displayed only one artist's work."

Bright was appointed vice-commissioner by Phillip Silver, Dean of Fine Arts at York University and commissioner-general of the Canadian Exhibit.

While the Prague Quadrennial is an exhibition whose goal is to bring together the best work in theatre design from around the world, Bright conceded that such international events cannot help being politically charged.

"The political situations of the countries, when they are of world import, are certain to influence the work and the relationships," she said. "For example, Yugoslavia's exhibit had a huge red swash all around and through the exhibit. You could see the agony of the people displayed there."

It's an exciting time to be in the Czech Republic, Bright said. "Its culture has flourished under suppression for many, many years. Both the German and Soviet conquerors believed that they could eliminate the Czech language, turn it into a street patois at most. The Czech language was virtually illegal from the beginning of the Nazi regime through the Soviet regime; now it is the only national language in the Czech Republic."

The national theatre movement has been very strong and extremely political, she added. "In this repressive atmosphere, their playwrights became very clever at writing on two levels, writing fairly inane story lines that hopefully were enough to satisfy the authorities, but with all these political undertones, meanings and attitudes," Bright said. "As a matter of fact, the theatre has struggled to find a voice in a free society where you can say anything you want."

Following the Quadrennial, the Canadian student exhibit went on to Winnipeg, where it was shown at the Canadian Institute for Theatre Technology conference in September.

Professor Bright joined Concordia in 1995. She has had a wide-ranging career as a freelance designer in theatre, film, television and special events. Her sets and costumes have been seen in Vancouver, Edmonton, London, Toronto and Montreal. She hopes to exhibit her work at the next quadrennial.

Bright's current projects include the set and lighting design for the naming ceremony of Concordia's Oscar Peterson Concert Hall on October 16 and the Concordia production of A Midsummer Night's Dream, at the D. B. Clarke Theatre in December. Over the last three years, she has been working on a research project aimed at developing a system for digitizing theatrical design portfolios. The project directs its attention to the unique challenges associated with representing theatrical production from a designer's perspective.

<! _______________________________________________________________________________>




Copyright 1999 Concordia's Thursday Report.