! CONCORDIA'S THURSDAY REPORT ON-LINE> <! Oct 7, 99 Issue> <! Site Designede and Developed by: S. Mehrad B.Eng. For comments and problems contact: technical@mehrad.qc.ca> <! http://www.mehrad.qc.ca>



<! ________________________________________________________________________________>
Of Note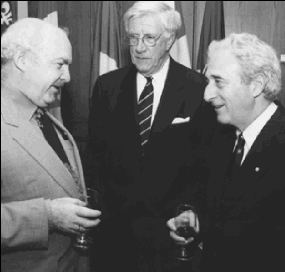 Walter Kirwan, Private Secretary to Irish Prime Minister Bertie Ahern, paid Concordia a visit on September 24 to present a cheque for 100,000 Irish pounds ($190,000 Cdn) to the Canadian Irish Studies Foundation. On hand for the presentation were Brian Gallery, chair of the campaign, and Rector Frederick Lowy, among others.
The fund has nearly reached its goal of $2.3 million, and the generous gift from the Irish government, announced last spring when Prime Minister Jean Chrˇtien visited Dublin, was a great boost.
For the second year in a row, the Foundation held a gala "night at the races" on September 15 at the Hippodrome de Montrˇal. Among the guests were Jean Charest, Daniel Johnson, Brian Mulroney and Irish ambassador Paul Dempsey.
Let's shake on it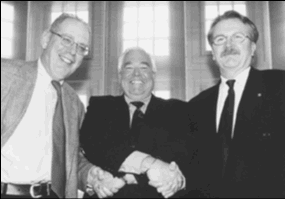 Concordia's Department of Applied Human Sciences recently signed a contract to deliver the Certificate in Community Service to students from Kahnawake, Kanesatake and a Cree community from northern Quebec. This will be the third group to take the certificate in an intensive off-campus format, and the occasion was marked by a luncheon on the Loyola Campus. At left are Dean Martin Singer, Donald Horne, executive director of Kahnawake Community Services, and Department Chair Randy Swedburg.
Kindly old coach
Bob McDevitt (second from left) was royally roasted -- and appreciated -- by several hundred of his media and Concordia colleagues at a party at Molson Centre on Friday night. McDevitt was a sports journalist at CJAD and CBC television until he took early retirement. He then put in 12 devoted years as a teacher in the Journalism Department. Former students paid warm tribute to the "kindly old coach," citing his compassion, wisdom and capacity to inspire. With him here are three Journalism colleagues, Lindsay Crysler, now retired and living in Halifax, Ross Perigoe, and Enn Raudsepp.

Touch-screen saves paper chase
A new software program developed by the Office of the Registrar enables students to get the information they need directly and quickly.
For example, independent student and rookie Stingers football player Mike Barbier (right) is looking for courses in criminology. Siddharth Kashyap, a student who works part-time in the Birks Student Services Centre (not pictured here), tells Mike to print out information on courses offered by the Department of Sociology and Anthropology.
The screen-and-printer combination can be found in several strategic places, including the reception area of the Office of the Registrar, on the seventh floor of the J.W. McConnell library complex.
Registrar Lynne Prendergast (far left) said the program will also be a boon to her staff. "Instead of taking 150 sheets of paper to an education fair and running the risk of running out of information on a popular program, we can just take the computer."
FALL CONVOCATION
Thursday, November 18
Palais des Congr¸s
Niveau 1, Salle B
10:30 a.m.
Honorary doctorates
will be presented to the Hon. Lise Thibault, Lieutenant-Governor
of Quebec, and world-famous theatre and film director
Robert Lepage.
Bring "lost" alumni back into the fold -- and win a trip
A cross-Canada trip for two could be yours if you can supply some missing alumni addresses in time to enjoy our year of 25th anniversary activities.
The trip will be on VIA's flagship train, The Canadian, and the prize will also include several nights at a top Vancouver hotel and car rental while in B.C.
All you have to do is help the Alumni Office locate some missing members of the Concordia family. For every three addresses you supply, you'll earn a chance in the draw, to be held at Homecoming 2000.
This month, a complete listing of the missing graduates, a form for missing addresses, and a detailed description of the trip will be posted on the Alumni Affairs Web site,
http://alumni.concordia.ca/alumweb
Human Resources and Employee Relations
Open House
Monday, October 25
9 - 11 a.m. and 2 - 4 p.m.
ER annex, 2155 Guy St., Suite 500
All staff and faculty are invited to see our new facilities and talk with members
of the HR & ER teams.
Light refreshments will be served.
We're looking forward to meeting you!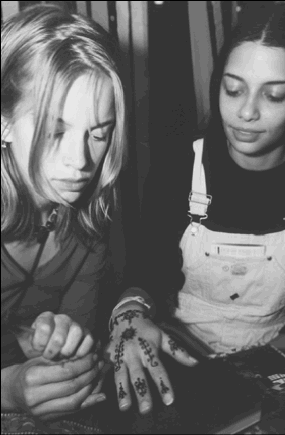 Karine Langlois carefully adorns History student Sabina Lakaheeram with henna. The Eastern decorative art was a special attraction at the annual Student Services Fair, held September 23 on the mezzanine of the Henry F. Hall Building. <! _______________________________________________________________________________>



Copyright 1999 Concordia's Thursday Report.