! CONCORDIA'S THURSDAY REPORT ON-LINE> <! Oct 7, 99 Issue> <! Site Designede and Developed by: S. Mehrad B.Eng. For comments and problems contact: technical@mehrad.qc.ca> <! http://www.mehrad.qc.ca>



<! ________________________________________________________________________________>
Business Challenge taped at D.B. Clarke Theatre
by Bradford Mackay
---
A game show series with a new twist was taped at Concordia's D.B. Clarke Theatre, and four students from the Faculty of Commerce and Administration were among the contestants.
The Business Challenge, taped over the weekend September 25 and 26, pits Canadian business students against their American counterparts. The Montreal-based production company World Affairs, headed by local Larry Shapiro, is behind the concept, with participation from the Financial Times of London.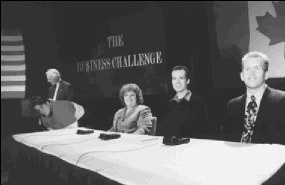 Shapiro, producer of the long-running PBS show The Editors, explained that the new series is loosely based on his 1986 production Campus Challenge, which had American business students facing off against their European counterparts.

"We had already formed a relationship with the Financial Times in 1986," said Shapiro, "so it was easier to get them committed to this project."

The Business Challenge involves a round-robin among 16 teams culled from some of the best business schools in North America, including the University of Chicago, Harvard, McGill and of course, Concordia.

The Concordia team was drawn from the MBA Case Competition group, a second-year course that challenges students to appraise real-life business situations, and works towards a big international competition held here each January. Veronica Promyshlianskaia, Martin Husar, and Paul Hemens competed for Concordia, with alternate Daniel Belair providing moral support.

Course teacher Geoff Bell felt this was a perfect opportunity for the students to exercise some of the skills they have been learning in their program.

As they sat in front of big screens that displayed their countries' flags, the contestants dealt with a variety of questions, ranging from light-hearted trivia about famous business personalities to more challenging ones focused on the intricacies of international economics. In another section of the show, students analyzed real-life cases presented by Canada's business community and politicians.

The program was hosted by David Johnston, president of the University of Waterloo and former principal of McGill, who also hosts The Editors. Johnston chatted with the contestants before and during the show, his light-hearted charm serving to calm any anxious nerves.

Each team was allowed a three-hour study period before their appearances, but there was no way they could prepare for the unexpected technical glitches, which seemed to throw some of the contestants.

"It was fun to be up there," Martin Husar said afterwards, "but the buzzers weren't really working properly." Some contestants had to raise their hands in order to get Johnston's attention.

Despite these glitches, which were fixed as the tapings progressed, the contestants seemed happy to be participating in an event with such a wide exposure. Dean Mohsen Anvari, who helped arrange the tapings, hopes that the show will draw a lot of attention to the University. Concordia's name will be featured in the opening and closing sequence of each episode.

First prize is $5,000 US, to be shared by the winning team, and all students will receive a subscription to the Financial Times of London.

Catch this cross-border challenge on CBC Newsworld in October, the Learning Channel in November and PBS in January. Depending on viewer response, World Affairs has a five-year plan to develop more episodes.

<! _______________________________________________________________________________>




Copyright 1999 Concordia's Thursday Report.