! CONCORDIA'S THURSDAY REPORT ON-LINE> <! Oct 7, 99 Issue> <! Site Designede and Developed by: S. Mehrad B.Eng. For comments and problems contact: technical@mehrad.qc.ca> <! http://www.mehrad.qc.ca>



<! ________________________________________________________________________________>
Oscar Peterson lends his name to Concert Hall
by Paul Serralheiro
---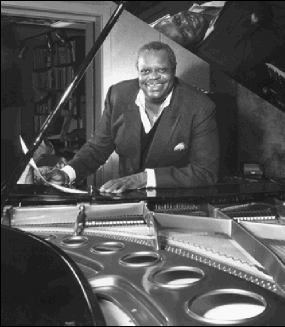 Fifty years ago last month, 24-year-old Oscar Peterson walked onto the stage of Carnegie Hall. He had just been introduced with the words, "We think he's going to be one of the coming giants of jazz" by impresario Norman Granz. He played three numbers, and "absolutely destroyed everyone," Granz recalled in last month's issue of Downbeat.
At that young age, Peterson was already, in Granz's words, "a great talent living inside the temperament of a seasoned and smart professional." Since then, he has touched people around the world, including Frank Sinatra, who invited him to his home for a private performance and duet, and Fred Astaire, who offered Oscar and members of his trio gold bracelets with their names inscribed.
After the Carnegie Hall concert, Peterson's potential was confirmed. At home in Montreal, however, he had already had an active career -- as a performer on local and national radio, as a star member of trumpeter Johnny Holmes' band, playing for dancers at Victoria Hall, and as the leader of a trio which Len Dobbin recalls hearing live on radio from the Alberta Lounge, a night club facing Windsor Station.
When he was only age 20, Peterson already had four commercially successful recordings. Harold Smith, a boyhood friend and Montreal high school classmate, decided to spread the word.
"Oscar lived on St. James St., I lived on Notre Dame. He introduced me to music at a young age," Smith said. "When I was 12 or 13, he started recording for RCA Victor. I decided it would be time to expose his playing to the U.S."
On a trip to New York, Smith asked Symphony Sid, an influential disc jockey, "Why don't you play my friend's records?" Sid reacted coolly because of Smith's youth, but at 3 a.m., he put on the record. The phone buzzed with callers wanting to know the name of the pianist.
Smith disputes Granz's claim that Granz discovered Peterson via a live broadcast from the Alberta Lounge while riding in a taxi to the airport in Montreal. "I became friendly with Granz," said Smith "and convinced him to see Oscar at the Alberta Lounge."
Granz's version is that he had heard of Peterson here and there, including recommendations by Coleman Hawkins, Billy Strayhorn and Duke Ellington. When Nat 'King' Cole quit Granz's Jazz at the Philharmonic touring show, Granz said, "I couldn't find anybody that could do the things that he could do. . . I mean the wonderful flexibility that he could bring to every performer. Then I found Oscar."
Oscar Peterson was born in Montreal on August 15, 1925 to parents from the British West Indies. His father, Daniel, was a boatswain and later a porter for the Canadian Pacific Railways, as it was then, who had taught himself to play the portable organ. Daniel Peterson settled not far from St. Antoine St., then a thriving jazz mecca with his wife Olivia John, a cook and housekeeper. They had five children, all of whom learned to play the piano and a brass instrument.
Peterson worked hard, often goaded by his sister Daisy, who was an important influence on him and on many musicians, including another great Montreal pianist, Oliver Jones. "Oscar put in a tremendous amount of rehearsal time," Harold Smith remembers. "He prepared constantly."
His achievements, including recordings, honorary degrees (including a doctorate from Concordia University in 1979), Grammy awards and other honours and distinctions fill pages. He has recorded more than 200 albums, and played live and on recordings with Louis Armstrong, Ella Fitzgerald, Count Basie, Duke Ellington, Dizzy Gillespie, Coleman Hawkins and Charlie Parker.
He's a composer, too, of Hymn to Freedom, for the civil rights movement, and The Canadiana Suite, for his native country. The full scope of Peterson's achievements with be celebrated in a National Library exhibit of its Oscar Peterson archives, planned for April 2000.
At the age of 78, he has recovered fairly well from a stroke he suffered last year, and is still full of plans; the recent neo-swing phenomenon is a misrepresentation of the music he feels compelled to rectify. He has also received a commission from the Canadian government for a composition to celebrate the Trans-Canada Trail.
Defining the Peterson style
Peterson's technique has been characterized as Lisztian, partly through the influence of an early teacher, Hungarian-born Paul de Marky, who studied with Stefan Thoman, who studied with Liszt, and partly due to his fleet-fingered resemblance to virtuoso Art Tatum.
In fact, Oscar out-did Tatum in one respect, according to Concordia Music professor Andrew Homzy. "With Tatum, the rhythm section was superfluous. Oscar took Tatum's approach and thinned out the texture. A Nat 'King' Cole influence accounts for the lightening up of the style. Peterson was able to play with bass and drums, and he did defining work with the trio."
Pianist Wray Downes, who has taught at Concordia for 12 years, studied in the 1960s at the Advanced School of Contemporary Music in Toronto, a "no-nonsense school" set up by Peterson, with teachers like Ray Brown, Ed Thigpen, Butch Watanabe, and guests like Roy Eldridge and Dizzy Gillespie.
At the concert on October 16, Downes plans to play "things I like that point up his credibility as a composer, and works associated with Oscar. Also playing will be Vic Vogel, band leader, composer, arranger, pianist and trombonist who won the Oscar Peterson Prize in 1992 for lasting contributions to jazz by a Montrealer.
"He was always an influence," Vogel said. "Oscar always told me a story. He always made sense, and sometimes he could thunder like a locomotive. You couldn't play like he has played without being honest."
Ceremony on the Web
The naming ceremony and concert to be held October 16 in honour of Oscar Peterson will be for invited guests only, for reasons of space, but you can enjoy it at home via the Internet.

A live webcast of the concert, featuring Vic Vogel's big band and a combo comprising Wray Downes, Michel Lambert, Dave Young and Richard Ring, will be on the concert hall's Web site, at http://oscar.concordia.ca

Apple, the computer giant, also plans to include the webcast on its own widely visited Web site, possibly linked from the QuickTime Showcase page.

<! _______________________________________________________________________________>




Copyright 1999 Concordia's Thursday Report.