! THURSDAY REPORT ON-LINE><! 05/11/1998 Issue><! By: S. Mehrad B.Eng. For comments and problems contact: technical@mehrad.qc.ca><! http://www.mehrad.qc.ca>
<! ________________________________________________________________________________>
1998 FALL CONVOCATION
---
Friday, November 20
Salle Wilfrid-Pelletier, Place-des-Arts, 10 a.m.
All Faculties
Honorary doctorates will be presented to
Polish composer

Henryk Gorecki
and Finance Minister

Paul Martin
An Evening with
H.M. Gorecki and his Music
Friday, November 20, 7:30 p.m.
Concordia Concert Hall
Françoise Godbois, piano
Mariusz Monczak, violin
Gordon Cleland, cello
Liselyn Adams, flute
Louise Samson, piano
Special guests: The Pendericki Quartet
Distinguished Polish composer Henryk Mikolaj Gorecki is in Montreal to be presented with an honorary doctorate by Concordia University.
This concert will be preceded by a half-hour public
interview with him about his music.
Admission: $25, $15 for students.
For reservations, please call 848-7928.
1998 Concordia University
Research Fellow Lecture Series
---
Ching Y. Suenon
Pattern Recognition and Computer Humour
Thursday, November 12
Lisa Serbinon
Growing up in Adversity
Thursday, November 19
Both lectures at 5 p.m.
Faculty Club, Room 767
Henry F. Hall Building,
1455 de Maisonneuve Blvd. W.
Cocktail reception to follow
---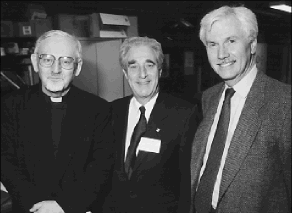 The Very Reverend Peter-Hans Colvenbach, Superior-General of the Society of Jesus, included Concordia in a recent tour. The Vatican-based head of the world's 20,000 Jesuit priests, Colvenbach spoke to a large audience in the Concordia Concert Hall on October 27. He is seen above with Rector Frederick Lowy and the Rev. David Eley.
Fr. Colvenbach used the story of Cain and Abel as the basis of a scholarly talk about violence, cultural differences and world peace.
While there are more than a dozen Jesuit residences in Montreal, Concordia's Loyola Campus houses the only English-language one in
the city.
---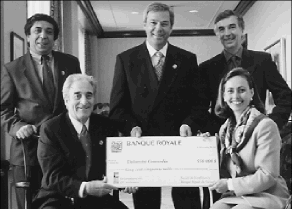 Monique F. Leroux, a senior vice-president of the Royal Bank, recently presented Rector Frederick Lowy with a $550,000 pledge to endow a Distinguished Professorship in Marketing. Also present were Dean of Commerce and Administration Mohsen Anvari, L. Jacques Menard, Chair of the Capital Campaign's Leadership Gifts Division, and Don Taddeo, Campaign Executive Vice-Chair.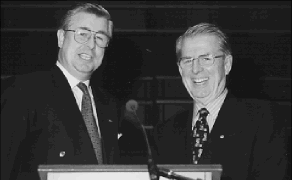 Every year, first-year students in Commerce and Administration hear directly from business leaders as part of their course Comm 210, Contemporary Business Thinking.
This year, the special guests were Claude Taylor (right), chair emeritus of Air Canada and a past member of Concordia's Board of Governors, and Maurice Panchyshyn, president of M & R Plastics and a member of the Faculty's advisory board.
Taylor told the audience of all the changes that have occurred in the workplace since he started with Trans-Canada Airlines in 1948, including such buzzwords as re-engineering, downsizing and outsourcing. He emphasized the importance of having a mission and a strategic plan.
Panchyshyn focused on management practices that can improve shop-floor productivity and quality programs, such as ISO 9002. He told the students to be inquisitive, and to be generous with their hard-won knowledge and experience.
­ With thanks to Marjorie Davis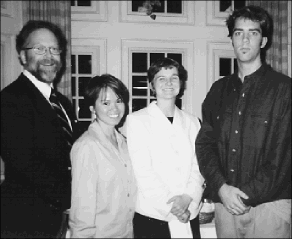 Awards to outstanding Journalism students were presented recently at an informal ceremony. The Susan Carson Award, named for an outstanding Gazette feature writer, was presented to Ellyn Kerr (second from the left). Two Philip Fisher Awards of $2,000 each were presented to Patricia Bailey (third from the left) and John MacFarlane (right). At the far left is Professor Ross Perigoe.
Concordia Graduate Students Association/Local 83, Canadian Federation of Students
---
Nominations are now open for the 1998 General Election for:
President, Vice-President Finance, Vice-President Advocacy, Vice-President Services, Vice-President External, Directors from Arts and Science (three from Arts, one from Science), Director from Fine Arts, Director registered as an independent student.
Nominations: Open until November 11, 5 p.m. (Forms are available from Annex T, 2030 Mackay, 10 a.m. - 5 p.m.)
Voting: By mail only. Ballots will be sent to all students and have to be returned to the GSA by noon, December 10.
Rebecca Tinning, Chief Returning Officer, Graduate Students Association
Concordia Student Safety Patrol
---
Need to use the Safety Patrol's drop-by or accompaniment services? Call 848-7533 to reach a dispatcher
Monday to Friday, 6 p.m. - midnight
Or to volunteer, call 848-8600/8700
CUSA president elected mayor
Congratulations from his alma mater to Glen Murray, who was elected mayor of Winnipeg on October 28.
Murray has been a popular city councillor in Winnipeg for the past eight years. He was also in the news several years ago when the National Film Board made a film about his adoption of a troubled teenager.
He was co-president of the Concordia University Student Association in 1981-82. Dean of Students Don Boisvert remembers Murray as "a very well-spoken and committed student president. No doubt he will bring the same passion to municipal politics as he brought to student politics."
His mayoral victory makes Murray the first openly gay mayor in Canada. His sexual orientation was not a major issue in the election campaign.
---
Simone
de Beauvoir Institute
---
Special speaker:
Mary Robinson,
United Nations High Commissioner of Human Rights and former
president of Ireland
"Women's Rights as Human Rights"
Thursday, November 26
11 a.m. - 12 p.m. H-110, 1455 de Maisonneuve Blvd. W.
Advancement and Alumni Task Force
---
A Task Force will examine proposed changes to the advancement and alumni functions at Concordia University between September 1998 and March 1999.
The current mission statements of University Advancement and Alumni Affairs (available from the Secretary of the Task Force) will be examined in the context of the University community's needs and available resources.
The Chair of the committee is Marcel Danis, Vice-Rector, Institutional Relations and Secretary-General. The Secretary is Maria Paradiso, Executive Director of Communications. The other members are Mohsen Anvari (Dean, Commerce and Administration), Elaine Arsenault (President, Concordia Alumni Association), Francesco Bellini (member, Advancement Committee, Board of Governors), Roger Côté (Director, Socioeconomic Services), Larry English (Chief Financial Officer), Cathy Hughes (President, CUPEU), Hazel Mah (Chair, Annual Giving), Benoît Pelland (alumni, Board of Governors), Richard Renaud (Chair, Advancement Committee, Board of Governors), David Smaller (President, CSU), Jonathan Wener (Chair, Real Estate Committee, Board of Governors).
Members of the University community are invited to communicate with the Task Force. Hearings will be convened for selected groups or individuals. Individuals or groups who wish to appear must submit written briefs with their request. Written briefs and requests to appear must be received by Thursday, November 26, at Advancement and Alumni Task Force, c/o Maria Paradiso, BC-310. Tel: 848-4805. Fax: 848-4550, E-mail: mariap@vax2.concordia.ca
More information can be found at: http://www.concordia.ca/Announcement/Announcements.html
---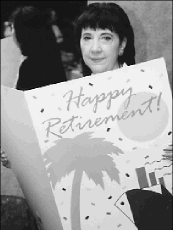 Laughter and warm hugs were on the menu when a retirement reception was held for Margaret MacPherson, a mainstay of Conference Services for many years. She is moving to rural Nova Scotia to start another career, and her friends had her piped in, in true Celtic style. Her boss of the past three years, Bob MacIver, gave a typically witty speech ("Margaret MacPherson: Friend or Foe?") in which he paid tribute to her bluntness, professionalism and dedication to the University. <! ________________________________________________________________________________>