! THURSDAY REPORT ON-LINE><! 05/11/1998 Issue><! By: S. Mehrad B.Eng. For comments and problems contact: technical@mehrad.qc.ca><! http://www.mehrad.qc.ca>
<! ________________________________________________________________________________>

by Derek Cassoff
---
Mario Dumont proved that you don't have to wait for convocation to launch a political career. The leader of Quebec's Action Démocratique was still a student at Concordia when he founded his political party and won a seat in the National Assembly.
Unfortunately, there will be no similar fairy-tale endings for this year's crop of aspiring politicians. The three Concordia students running for office in last Sunday's municipal elections all came up empty in their bids for council seats.
Shawn Rosengarten and Pascale Dussault, running for seats in the Montreal election, finished fourth and fifth respectively. Elan Roiz placed fourth in a tight four-way battle for a council seat in suburban Dollard-des-Ormeaux.
Despite their failures at the ballot box, all three say they enjoyed the election experience. And with all due respect to their professors, they say they learned more about politics from their campaigns than they ever will from a textbook.
"Studying politics and living it has been two different things," said Shawn Rosengarten, a first-year Political Science student who ran for the Montreal Citizen's Movement in the downtown Peter McGill district, only to be beaten by veteran Gerry Weiner.
"The most fascinating part has been watching the whole process evolve, from starting out months ago to developing a campaign and adjusting it to the different issues in the district."
Campaigning in a district with a heavy student population, Rosengarten, 21, spent a good deal of his time trying to convince young people to exercise their right to vote. Based on past records of voter turnout, he knew it would be an uphill climb.
"I guess municipal politics doesn't ignite the same passions as our national question," he said. "But it's the level of government that affects our lives the most, and it's the closest relationship that citizens have with their government."
Dussault, a 26-year-old student at the University's School of Community and Public Affairs, agreed. He turned down overtures from both the Quebec Liberals and the Parti Québécois so that he could run in the municipal arena.
"I like the idea of trying to change things for the better, and the best way to do that is closer to home," said Dussault, who represented Jean Doré's Team Montreal in the Ville Emard riding.
Roiz, a Mathematics student, mounted a serious, if unsuccessful, campaign to unseat incumbent councillor Colette Gauthier in Dollard, proving that you don't need political training to run for office. "People were really impressed with what I was doing at my age," he said. "They told me that I had a lot of guts."
At 21, Roiz is already president of the Equality Party's youth wing and has been a vocal member of the grassroots movement that pressured municipalities into passing the so-called "Staying Canadian" unity resolutions. "I've always been interested in politics and how government works," he said.
Political Science Professor Maria Peluso says that students who run for office or volunteer to work in election campaigns gain invaluable insight into how the political process operates and how power is ultimately distributed. "I get so excited when students want to take responsibility for their communities and the world that they live in," she said.
This semester, Peluso required that each of her students volunteer for one of four candidates running in the Montreal election. They performed all sorts of duties, from canvassing voters and organizing press conferences to taking part in political debates.
"It's not a make-work project for the students, but a way to give them experience in a variety of tasks," she said. "It puts them at a great advantage because they are studying and doing at the same time. It's a blend of theory and practice."
Concordia students should take heart. With a provincial election less than four weeks away, another Mario Dumont may still be on the horizon.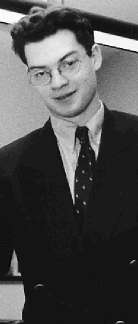 <! ________________________________________________________________________________>