! THURSDAY REPORT ON-LINE><! 05/11/1998 Issue><! By: S. Mehrad B.Eng. For comments and problems contact: technical@mehrad.qc.ca><! http://www.mehrad.qc.ca>
<! ________________________________________________________________________________>

by Barbara Black
---
Twenty-five years is a milestone for anyone, but for a small-press publishing house, it's a triumph over the odds.
Nancy Marrelli and Simon Dardick are the husband-and-wife team behind Véhicule Press, which began in 1973 in a defunct drinking emporium and spent a phase as a co-operative. Since 1981, however, Véhicule has operated out of the Marrelli-Dardick family home on the Plateau.
Marrelli is also Director of University Archives; Dardick has for the past decade taught a course in research, editing and publishing in the Creative Writing program.
Véhicule has published hundreds of books over the quarter-century, and can boast many literary awards, including the 1990 Governor-General's Award for Translation, which went to Jane Brierley (she was a finalist again last year), the 1995 Stephen Leacock Prize for Humour, which went to Josh Freed, the 1991 Félix Antoine-Savard Prize for Translation, from Columbia University (Jane Brierley again), and many, many mentions among the local QSPELL Awards over the years.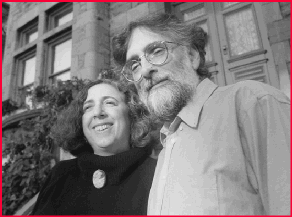 Many Véhicule authors are Concordia graduates or faculty members -- Elisabeth Harvor, Erin Mouré, Ray Beauchemin, Denise Roig, Marika Pruska-Carroll, Andrew Golner and Daniel Salée, Marianne Ainley, Carmine Starnino, Matt Friedman, Mervin Butovsky, Josey Vogels, Tim Thomas, P. Scott Lawrence and many others. Here are a couple of samples from the latest Véhicule catalogue:
Judy Garfin: Natural Disguise is the name of a gorgeous new book of paintings, watercolours, drawings and prints taken from the 25-year career of a Concordia professor of Fine Arts. It includes critical essays by other faculty members, including Virginia Nixon and Ira Robinson.
Poetry Nation is a wild and woolly anthology of fusion (performance) poetry from across North America, edited by Regie Cabica and Todd Swift. Cabica is an American; Swift, son of longtime senior staff member Tom Swift. Todd was already making a stir in avant-garde poetry circles while he was a student here, and in debating, too. He hosted the 1995 U.S. National Slam Finals, and has screenwriting credits with several networks.
Véhicule receives about 30 manuscripts a month, and the amount of work needed on those that are accepted varies widely. Marrelli and Dardick do the big editing projects, Dardick handles typesetting, book design and other elements, and Michael Harris is the longtime poetry editor. Vicky Marcock, a Concordia grad, also works for the press.
Marrelli always has two or three editing projects on the go, and says she's never had a problem with prickly writers who don't want her to touch their material. The biggest challenge, in fact, is simply the one of scale -- Canada is a small literary market. Despite 25 years in the
business, Marrelli said, "It's always touch and go. Thank God for the Canada Council!
"We small-press publishers are the farm teams for the big publishers," she continued. "And we perform a valuable service. Look at Stephanie Bolster's first book [White Stone], which has been nominated for a Governor-General's Award for Poetry. Where else would it have been published?"
One of Véhicule's biggest sellers is Cheap Thrills: Great Montreal Meals for Under $10. It includes more than 80 entries, many contributed by Concordia writers, and it's updated every two years. (The book costs $9.95, coming in just under the $10 wire.) Cheap Thrills is so popular, in fact, that "some people work their way right through it alphabetically." <! ________________________________________________________________________________>