! THURSDAY REPORT ON-LINE><! 05/11/1998 Issue><! By: S. Mehrad B.Eng. For comments and problems contact: technical@mehrad.qc.ca><! http://www.mehrad.qc.ca>
<! ________________________________________________________________________________>

by Paul Serralheiro
---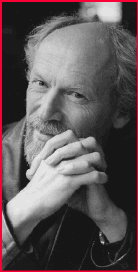 "Editors want fiction, not poetry. But poetry is the life-blood of the literature of a nation. It's there. It's an unseen pulse."
John Steffler, this year's writer-in-residence in the Department of English, has been described as "Canada's most sensuously passionate writer." That's quite an achievement, considering he writes as much about insects and rock formations as he does about people and their intimate relationships.
He read from his work and commented on his approach to writing to an attentive audience of students, faculty and a few curious fellow poets on the evening of October 14.
Steffler writes poetry and prose, but he makes no distinctions between the two genres. "I'm interested in the crossover," he explained. "I never felt a need to publish a novel, but I felt a need to write in an extended form, something with narrative pull."
Steffler's attempts in this area yielded a book-length poem, The Grey Islands. When he opted for prose, The Afterlife of George Cartwright was the highly successful result. He wasn't comfortable with it at first. "I thought of the book as a 'thing,'" Steffler said with some humour. "I didn't think of it as
a novel."
The Afterlife of George Cartwright earned Steffler the Smithbooks/
Books in Canada First Novel Award and the Thomas Raddall Atlantic Fiction Prize. It was shortlisted for the Governor-General's Award for Fiction and the Commonwealth First Novel Award.
Dressed in a corduroy shirt and blue-jeans and sipping from a cup of coffee, Steffler read published poems as well as newer ones in manuscript. The poems had titles like "The Green Insect," "Towers and Monuments," and "Walls of Sound."
Steffler was born in Toronto and raised in nearby Thornhill, but has long been a resident of Newfoundland. In a few pieces from The Grey Islands, in which he tried to "explore and process the landscape of Newfoundland," Steffler revealed the importance of place in his work.
His view of nature includes the city and human creations and activities, an attitude he shares with the 18th-century mystic and poet William Blake, in whose work Steffler immersed himself while writing his Master's thesis. Although that was "a long time ago," Steffler acknowledged the influence of Blake's revolutionary morality, which transcended the rigid dualism of Western thought.
In another poem, Steffler managed to combine death, Greek mythology and the Newfoundland landscape. In a playful and lightly surrealist piece inspired by the work of Spanish painter Joan Miro, a one-sided conversation took shape, beginning with a comment on the presence of bees in the kitchen and ending with the statement "God, I'm in love with you."
Other works by Steffler include An Explanation of Yellow, The Wreckage of Play and Flights of Magic. Now he's at work on an opera libretto.
As part of his duties in the
Creative Writing program, he will meet students and discuss their work, giving advice and feedback. This job is "fabulous," Steffler said, "because it gives me time to devote to my writing and to meeting some of you." <! ________________________________________________________________________________>