! THURSDAY REPORT ON-LINE> <! 12/04/98 Issue> <! By: S. Mehrad B.Eng. For comments and problems contact: technical@mehrad.qc.ca> <! http://www.mehrad.qc.ca>


<! ________________________________________________________________________________>
Concussions in hockey: A big headache
by Laurie Alpern
---
Steve Matresky sits in the stands, watching his old teammates practicing. The former Stingers defenceman won't be joining them. At only 22, the third-year Economics major has been forced to retire because of too many concussions.
"I had three in three-and-a-half weeks last season," Matresky said, shaking his head. "The last one wasn't even a severe hit, but my head was already mush. It doesn't take a hard hit to get another concussion."
Matresky looks fine. No one can tell that he still has constant migraine headaches, and his head "feels 10 times bigger than it is." There's also dizziness, seeing stars and being sick to his stomach. But the worst pain is knowing that he will never be able to play hockey again.
"It hurts," he said, watching his ex-teammates sweating through skating drills. "When I think of winter, I think hockey."
Last summer, Matresky's physician in Toronto recommended quitting after putting the 6'2", 225-pound athlete through extensive testing.
"I didn't think it would be so hard until I talked to my parents. My dad said that if he ever saw me on the ice again, he'd break both my legs!" A touch of a smile comes to his lips when he remembers his father's words.
Stingers coach Yves Beaucage knows his squad will feel the loss of Matresky. "Steve brought a lot of stability, poise and a lot of maturity to the team. He loved hockey -- he still does."
Beaucage, now in his ninth year coaching the Stingers, respects Matresky's decision, despite the fact that his blueline now consists of rookies except for one veteran. "I'll never put the physical health of an athlete in danger," he said. "A nose can be repaired, a tooth replaced, but you only have one head -- it's not replaceable."
Beaucage has already lost four players to concussions this season. While Matresky is the only one (as of now) who will never play again, forwards Eric Nadeau, Martin Corbeil and defenceman Eric Jenkins are all at risk after suffering from concussions this year.
Jenkins, a 21-year-old rookie in his first year at Concordia, has already had seven concussions, including several during his seasons with Sherbrooke and Chicoutimi, of the Quebec Major Junior Hockey League. His latest blow to the head came in a recent game against the York Yeomen.
"I don't even know when it was," said the History major from Boucherville, who continues to suffer from headaches and nausea. "But I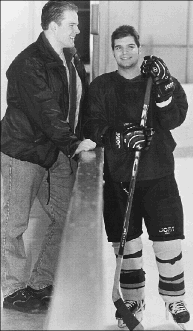 won't play until there are no more symptoms. I'm going to rest for as long as they say."
Melanie Carter, the team's athletic therapist and a student at Concordia, said it is difficult to tell when a player is ready to return.
"A lot of players won't tell you if they're suffering because they don't want to miss any games," Carter said. "But we don't have any specific ways to test the head. We have to go with what the player says. It's really hard, because I can't see inside -- it's not like a knee, where I can feel the ligaments."
Instead, they use a system of signs and symptoms. "We ask a lot of questions. Is the headache worse? Is there dizziness? Ringing in the ears? No balance? Are their pupils dilating?"
Post-concussion syndrome, which often occurs after being hit on the head, can involve such symptoms as headaches, dizziness, nausea, fatigue, loss
of balance, irritability, difficulty with concentration, and memory loss.
"Hockey players today are human torpedoes," Beaucage said. "They're fearless. There is not an inch of body that isn't protected, and they use their sticks as weapons."
While concussions can occur from legal body contact every once in a while, most of the time, dirty stick work is to blame. Beaucage thinks that fighting, which is condemned in university hockey, can be a solution to the problem of increasing stick violence. "I'm not saying that fighting is good, but it brings respect back into the game. After a fight, emotions usually calm down."
Both Jenkins and Matresky blame "a lack of respect for other players" in their league, but the National Hockey League is no different. Since 1996, the league has seen the forced retirement of New York Islander Brett Lindros, at the age of 21, and Pat Lafontaine, long-time superstar of the Buffalo Sabres and New York Rangers. While Paul Kariya of Anaheim's Mighty Ducks is back after a vicious on-ice attack, Lindros has turned to broadcasting.
Jenkins is now back in the Stingers lineup but Steve Matresky will stay on at Concordia, working on security at the Concordia Arena and focusing on his studies. "Now I can concentrate on school. That's the main reason I'm here," he said optimistically.
Steve Matresky, who had to retire from hockey, talks to Eric Jenkins, who has since returned to playing with the Stingers. <! _______________________________________________________________________________>




Copyright 1998 Concordia's Thursday Report.