! THURSDAY REPORT ON-LINE> <! 12/04/98 Issue> <! By: S. Mehrad B.Eng. For comments and problems contact: technical@mehrad.qc.ca> <! http://www.mehrad.qc.ca>


<! ________________________________________________________________________________>
At a Glance
In Brief...
Congratulations to Communications Studies students Sandra Dametto and Julia Dover, who have each won a $10,000 Celanese Canada Internationalist Fellowship. The program, now in its third year, is aimed at developing young talent with international experience. Both have plans involving the U.K. Dametto is from Montreal, and earned her BA at Concordia; now working on her MA, she plans to spend a semester in a program at Nottingham Trent University and do research in London. Dover, who is from Calgary, also earned her BA here, and is in a one-year Master's program in European literature at Cambridge University.
Congratulations to Nancy Marrelli (Archives) and Simon Dardick (English), whose Véhicule Press published the winner of the Governor-General's Award for Poetry for 1998. The book is White Stone: The Alice Poems, a first collection of work by Ottawa poet Stephanie Bolster. Véhicule is celebrating its 25th year.
Stanley G. French (Philosophy) recently addressed the Montreal Lakeshore University Women's Club on the topic "From Cause to Consequence: The Mistreatment of Women and Children."
S.K. Goyal (Decision Sciences/MIS) co-authored the paper "Total Quality Management: A New Perspective for Improving Quality and Productivity." It will appear in an issue of the International Journal of Quality and Reliability Management.
Lorne Switzer (Finance) has had two articles accepted for publication: "The Interactions Between Trading Volume and Volatility: Evidence from the Equity Options Markers" in Applied Financial Economics, and "The Effects of New Issues and Redemptions of TSE Index Participation Units" in Corporate Structure Finance and Operations. He delivered papers at conferences in Helsinki last June, in Toronto in
September, and in Chicago in October, and was selected to the program committee of the European Financial Management Association's meeting in Paris next June.


---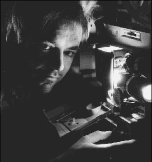 The Street, Daniel Cross's touching, gritty documentary about the men who congregate at the Guy Métro station, is getting more international notice. It will be given five theatrical screenings in Paris, thanks to the people at
Paris's Videothèque, who have transferred it to 35-mm format. Cross, a Concordia BFA/MFA, is also a staff member in the Audio Visual unit of IITS.



---
Young chemists shine
The Department of Chemistry and Biochemistry presented a chemistry "extravaganza" at the National Council of Black Educators of Canada's third national conference on science and technology, held October 15 to 17 at the Hôtel
du Parc.
The Concordia students from the department who led the workshop for elementary and secondary students were Thea Scantlebury, Neema Chirwa, Dominic Werugia, Paul Loncke and Barbara Morgan. There were also students from the Faculty of Commerce and Administration and the Department of Biology: Eric Pappoe, Amina Cole, Davina Bakare and Ingrid Muzac.
Thea Scantlebury was given the Young Black Scientist Award by the Quebec Black Medical Association for the best poster presentation. Her work was titled "The Role of Acylation Stimulating Protein (ASP) in Obesity."
---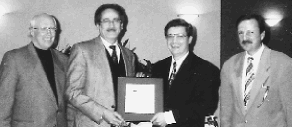 Professor Paul Fazio received an honorary plaque on October 27 for his outstanding contributions as past president and founder of the Quebec Building Envelope Council. Dean of Engineering and Computer Science Nabil Esmail is presenting the plaque. To his left is Raymond Blanchette, president of the council, and to Fazio's right is Luis de Miguel, director-general of the QBEC.
---
Our men on the Hill
Professors Lorne Switzer (Finance) and William Bukowski (Psychology) were Concordia's representatives on Parliament Hill recently.
They were part of an event sponsored by SSHRC, the Social Science and Humanities Research Council, that brought leading researchers from across Canada to Ottawa to present their research to politicians, decision-makers and journalists.
Over the course of the event, held November 1 to 3, SSHRC also ran several planning workshops. Switzer and Bukowski met with minister of industry John Manley, several MPs and a senator, the deputy health minister, and Eddie Goldenberg, senior policy advisor to the prime minister.
Bukowski commented afterwards, "Parliamentarians and policy-makers live in a world that is almost as isolated as the ivory tower where we are purported to live. Their needs and daily demands don't allow them much contact with professors and social scientists.
"I think that they were eager to learn more about us and to see the value and relevance of our work for the issues they face. The MPs, senators and policy-makers I met were very heterogeneous -- they weren't all cut from the same cloth. But I think that the role of social science was immediately apparent to them all."
---
A Gordon Fisher colloquium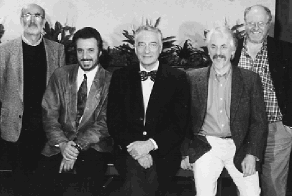 A colloquium and dinner were held October 31 to honour Economics Professor Gordon Fisher on his 70th birthday. He is third from the left in the photo, and is surrounded by the speakers. Left to right are Adolf Buse (University of Alberta), Dale Poirier (University of Toronto), Fisher, Russell Davison (Queen's University), and Gordon Anderson (University of Toronto).

Fisher was born in England, and specialized in statistics at the University of Birmingham and Cambridge University. He taught in Glasgow and Birmingham, and in 1964 was elected to the Leverhulme Chair of Econonometrics at Southampton University.

He came to Canada in 1975, teaching first at Queen's University, and then, beginning at 1990, at Concordia, where he chaired the Department of Economics and was responsible for hiring the younger generation of economists and adding vitality to the graduate program.

More than 40 people took part in the colloquium, which ended with dinner at a nearby restaurant.
---
UN Club wins award in Chicago
Congratulations to Concordia's Model United Nations Club. A delegation of eight members represented Syria at the American Model UN in Chicago recently, and walked away with the Best Delegation award.
Teams from 80 universities took part in the simulation, in which groups of student debaters present the interests of countries around the world.
Concordia's Model UN Club has about 40 active members, reported Lamis Abulkhair, who was one of those who went to Chicago. The next stop for the club is a meet at McGill, and then it's on to Harvard for another one.
---
Architect from Brazil wins international student award
Congratulations to Ines Siqueira, a Master's of Applied Science student in Construction Engineering and Management.
She has won the 1998 International Student Paper Award from the Project Management Institute's Educational Foundation. The award was announced at the Institute's 29th annual seminar, held in Long Beach, California, attended by more than 2,000 members.
Siqueira is a native of Brazil, and comes from a family of engineers. She studied to be an architect, and practised her profession for seven years in Brazil, doing design and construction management. However, she began to feel the need for another degree in that field.
Travelling for pleasure brought her to Montreal, where she had a friend doing graduate work at Concordia. When she discovered
our unusual School for Building (recently renamed the Department of Building, Civil and Environmental Engineering), she realized
that it was just what she was
looking for.
"I love it," she said when contacted about her award. "It's an excellent program."
Her paper is titled "Automated Cost Estimating System Using Neural Networks," and her supervisor is Professor Osama Moselhi, Chair of the department. <! _______________________________________________________________________________>




Copyright 1998 Concordia's Thursday Report.