! THURSDAY REPORT ON-LINE> <! 12/04/98 Issue> <! By: S. Mehrad B.Eng. For comments and problems contact: technical@mehrad.qc.ca> <! http://www.mehrad.qc.ca>


<! ________________________________________________________________________________>
Volunteers revive The Hive
by Véronique Jouhaud
---
Loyola staff members, in conjunction with the Concordia Student Union (CSU), are resurrecting The Hive as a gathering-place for students.
Run by the student association and located on the third floor of the Campus Centre on the Loyola Campus, The Hive has been closed for three years.
"The students need a place to go -- and not the cafeteria or the library, but a nice place where they feel comfortable," said Ann M. Bennett, coordinator of the Rector's Cabinet at Loyola.
The need for a place for students was pointed out in the final report of the Task Force for the Revitalization of the Loyola Campus. Bennett, who was part of the task force,
is working with CSU president David Smaller and Hive Operations Director Rick Stom on the
project.
The Hive offers a panoramic view of the campus and can hold about 450 people. It includes a large open area with a bar connecting to a smaller room.
Bennett remembers taking part in activities there in the late 1970s and early 1980s while she was a student. "It was a thriving place. One week I was at a conference there and a week later, I was at a comedy night."
Starting this month, The Hive will be used as a lounge for students to hang out, days and evenings. The CSU is providing a TV, VCR and cable. Student clubs can hold such events as casino nights, dance parties and film showings.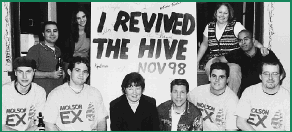 The space will also be rented out for seminars, wedding receptions and any internal or external events. Smaller said all money generated would stay in The Hive.
Students and staff volunteered to clean up the area, and staff provided manpower and expertise, including Robert Lortie, coordinator of Loyola Campus Physical Space, Gilles Pilon, head electrician, Gaston Boulanger, coordinator of Moving Services, and Jacques St. Amour, manager of Custodial Services.
If you have any ideas or comments, The Hive has an e-mail address: thehive@alcor.concordia.ca
Staff volunteer Ann Bennett and Rich Gregory, vice-president of the Exercise Science Students Association, surrounded by supporters of the Hive project. More than 200 attended a "Revive the Hive" party last Friday night, raising money for the Learning Lab in the Drummond Science Building. <! _______________________________________________________________________________>

Copyright 1998 Concordia's Thursday Report.