! THURSDAY REPORT ON-LINE> <! 12/04/98 Issue> <! By: S. Mehrad B.Eng. For comments and problems contact: technical@mehrad.qc.ca> <! http://www.mehrad.qc.ca>


<! ________________________________________________________________________________>
New chair provides research link with wood producers
by Dawn Wiseman
---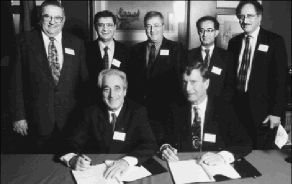 Standing are Jean-Claude Mercier, president of Forintek Quebec, Professor Paul Fazio, Paul Pellerin, representing the Quebec government, Professor Osama Moselhi and Dean Nabil Esmail. Signing the agreement, Rector Frederick Lowy and Ian de la Roche, president and CEO of Forintek Canada.


The focus on new information technologies and their applications sometimes makes it easy to forget that natural resources are still a mainstay of the Canadian economy.
On November 25, Rector Frederick Lowy signed a memorandum of understanding with Ian de la Roche, president and CEO of Forintek, the highlight of which is the creation of an Industrial Chair of Wood Building Envelope at Concordia.
Forintek is the National Wood Products Research Institute; its members include 150 wood-industry companies (giants like MacMillan Bloedel, Domtar and Kruger), six provincial governments and the federal government.
Paul Fazio, professor in the Department of Building, Civil and Environmental Engineering (formerly the School for Building), was instrumental in helping to cement one of Concordia's newest relationships.
"It's hard to say how one particular activity leads to another," Fazio said at the signing ceremony at the University Club last week. "You meet people, you network with professionals, people see the resources you have, and relationships get started and then cemented."
Forintek and Concordia, along with other funding partners, including the provincial ministry of natural resources, plan to approach NSERC for matching funding next spring. The chair-holder and team will be announced when funding is complete.
The agreement between the two institutions is quite wide, but focuses on establishing a framework for collaborative research and development on building-envelope and wood-based building systems, and facilitating the transfer of the results of research and development to industry.
Why did Forintek decide to collaborate with Concordia?
"There's a tremendous breadth of unique talent and leadership in building-envelope research here," de la Roche explained. "We saw a true synergy that could be developed." The agreement creates a favourable environment for exchange between researchers, professors and graduate students at Concordia and researchers at Forintek.
While the initial research will take place primarily within the Department of Building, Civil and Environmental Engineering, Dean Nabil Esmail said, "My hope is that with this start we will create the potential for a wood sciences centre at Concordia that might involve other researchers and other departments."
According to Fazio, a number of research areas are being considered. One is how to optimize prefabricated homes depending on the intended market. For instance, Canadian wood-frame homes are a sought-after luxury item in Japan, but it is a relatively untapped market.
At the other end of the spectrum, countries like Honduras and Nicaragua have just suffered tremendous destruction from Hurricane Mitch.
"What they need are simple, economical manufactured systems [prefabricated homes] that can be easily and quickly transported and erected," Fazio said. "The question in both these situations is, how do we manufacture those systems to meet the needs of the customer?"
Applications closer to home are also plentiful. "It's one of those opportunities where we can give back to society for the investment it has made in the University. It's very exciting."
Dean Esmail agreed. "We have a great amount of research and expertise here, but that talent is only truly stimulated when there is a communal, societal/industrial interest in the outcome. Opportunities of this magnitude are a great stimulus to our talent." <! _______________________________________________________________________________>

Copyright 1998 Concordia's Thursday Report.