! CONCORDIA'S THURSDAY REPORT ON-LINE> <! Nov. 4, 99 Issue> <! Site Designede and Developed by: S. Mehrad B.Eng.> <! For comments and problems contact: technical@mehrad.qc.ca> <! http://www.mehrad.qc.ca> <! also:> <! http://www.software-farm.com>
---
Ready for treats
Children at the Garderie des P'tit Profs on the Loyola Campus went out trick-or-treating last Friday. All dressed up and ready to go are (from left) Ma'edeh Sharifi, Claire Wayne, Jessy Bokser, Kathleen Massimo and Tarek Ibrahim.
---
Memorial service
Reginald K. Groome, O.C., 1928-1999
Wednesday, November 17, 4 p.m., Loyola Chapel
Everyone is welcome to attend this remembrance in honour of Mr. Groome, who was a much-valued friend to the University, and Chair of the Concordia
University Board of Governors from 1992 to 1999.
---
Centre for Studies in Behavioural Neurobiology
Fifth annual research festival
Friday, November 5
11 a.m., DeSève Cinema Ð Professor Jim Pfaus, on "Consequences of sexual stimulation"
2 p.m., Atrium J.W. McConnell building - Poster session
---
Bloomsbury Day
November 12 - 13
Room 767, Henry F. Hall Building,
1455 de Maisonneuve Blvd. W.
An interdisciplinary exploration of Bloomsbury studies
Nov. 12, 4:30 p.m.: Mary Ann Caws (City University) on Mallarmé in Bloomsbury
Nov. 13, 9:30 a.m.: S.P. Rosenbaum (University of Toronto) on The Art of Clive Bell's Art
Nov. 13, 10:45 a.m. : Christopher Reed (Lake Forest College) on Heroism and Housework
1:30 p.m. : Panel discussion.
Registration: Nov. 12, 3:30 Ð 4:30 p.m., $15 general, $5 students.
For more information, please contact Judith Herz, English Department, herz@vax2.concordia.ca
---
Dr. René Lemarchand
Visiting Professor of International Studies,
Thomas Watson Institute for International Studies, Brown University
Post-Genocide Rwanda:
Coming to Terms with the Past
November 8, 8:30 p.m.
H-407, Henry F. Hall Building, 1455 de Maisonneuve W.
This is a free public lecture. For further information, please see www.migs.org
---
Department of Classics, Modern Languages and Linguistics
Inaugural lecture in memory of Dr. Paul F. Widdows
Elaine Fantham
Giger Professor of Latin, Department of Classics, Princeton University
Lucan's Civil War: The Angry Poet and the Anger of the Gods
November 24, 5 p.m.
Room 763, Henry F. Hall Building
Reception to follow in Room H-663.
---
Centraide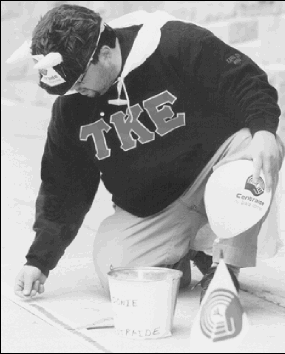 Concordia's Centraide campaign is in full swing, and several lively events were held recently to make people aware of this massive appeal to help local charities.
Music students in Andrew Homzy's jazz classes entertained the noon-hour crowd in the lobby of the Henry F. Hall Building, while volunteers "sold" apples and pencils, much as the poor did during the Great Depression.
On another brisk fall day, Engineering students urged passersby to put a loony on the duct-tape "Loony Line" outside the Hall Building. It was part of a friendly competition between students at the Montreal universities.
Employees should have received their letter soliciting donations to Centraide through the mail, including an explanation of how to give through a pay deduction. This is a virtually painless form of generosity, and it's a gift that gives all year.
Be generous -- Centraide is keeping afloat 250 charities, from food kitchens to pre-school programs.
---
Faculty of Commerce and Administration
Open House
November 18 and 19
Atrium, J.W. McConnell Building
Special programs on November 19:
11 a.m. - Undergraduate programs: What do I need? How do I choose?
12 noon Ð Faire le Grand Saut: Especially for francophones
1 p.m. Ð Co-op programs: Get salaried work experience before graduation
3 p.m. Ð What you can do now to get the job of your dreams
Visit our Web site at http://www-commerce.concordia.ca
---
Beta Gamma Sigma Honour Society

Congratulations to the following Commerce and Administration graduates, who were welcomed into the Beta Gamma Sigma Business Honour Society at a ceremony on October 28. The Society admits only the top 15,000 of the 300,000 students who graduate each year from schools accredited by the International Association for Management Education, also known as the AACSB.

Seniors

Stéphane Arcand

Roman Babutin

Debra Basaraba

Wilson Bazile

Richard Bengian

Graeme Dean Bishop

Melissa Marie Bissell

Natalie Blais

Michael Anthony Bucci

Peter Andrew James Campbell

Nadia Decobellis

Caroline Désorcy

Hamdi Hijazi

Richard Hobbs

Min Hwa Hsieh

Chad Ashley Paul Humeniuk

Chin Chiao Hwang

Livio Iorio

Karen R. Johnson

Xenia Katravas

Chaïda Koné

Karen Anne Krishnasamy

Ka Man Kwan

Bryan Lamontagne

Iris Lustgarten

Vered Lustgarten

Jack Martin

Mario Martorano

Andjelka Milosevic-Vidovic

Mehdi Mourali

Teresa Nardo

Michael Newin

Ka Wan Ng

Anh Nguyen

Penelope Gayla Potash

Pasqualina Racaniello

Angel Emmanuel Rodriguez

Antonio Sebastiani

Guy Trudel

Colin Vidal

Alessandra Zardo

Masters

Vikram Bawa

Matthew R. Beck

Nicole R. Bérubé

Joan Daigneault

Marc D'Ambrosio

Paul Lawrence Debanne

Claude Dionne

Aliza Eba

Sophie Fontaine

John R. Gallagher

Alexander Goetz

Charlene Henderson

Dawn L. Henson

Linda Marilyn Hirschberg

Michael Laranjo

Pasqualina Mancini

Elianna Pappas

Georgia Radiotis

Nadia Saad

Kim E. Simmonds

Ingrid M. Sinclair

Simona Solomon

Malcolm A. Thompson

Frances R. Yuen

Doctoral

Henry Adobor

In addition, Faculty of Commerce and Administration tenured faculty members are eligible for membership. The following faculty members were also initiated at the ceremony:

Suresh Kumar Goyal

Gary W. Johns

Annamma Joy

Gregory E. Kersten

Michel Laroche

Terri Robin Lituchy

Tak Kwan Mak

Gad Saad
<! _______________________________________________________________________________>




Copyright 1999 Concordia's Thursday Report.