! CONCORDIA'S THURSDAY REPORT ON-LINE> <! Nov. 4, 99 Issue> <! Site Designede and Developed by: S. Mehrad B.Eng.> <! For comments and problems contact: technical@mehrad.qc.ca> <! http://www.mehrad.qc.ca> <! also:> <! http://www.software-farm.com>



<! ________________________________________________________________________________>
Even car accident can't slow down Concordia rugby star Harry Geogiopoulos
by John Austen
---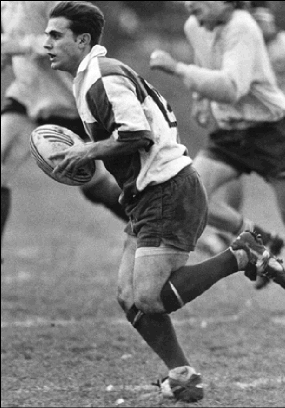 It's hard to keep a good Aussie down -- or should that be down under?

A hit-and-run car accident on October 30, the day before a big playoff rugby game, didn't affect the play of Concordia Stinger Harry Geogiopoulos one bit.

The 25-year-old Sydney native was an instrumental part of the Stingers' 17-12 win over McGill last Sunday. Concordia now advances to the final against Bishop's this weekend in Lennoxville.

"That's just typical of Harry," said Stingers coach Clive Gibson. "He doesn't let anything get to him. He's involved in a car accident, comes to the game limping, and still gives his usual 110 per cent. He's always been an impact player for us."

Geogiopoulos was asleep in the passenger seat when the car his friend was driving was cut off by another automobile, causing a collision.

"The other guy just took off," Geogiopoulos said. "We're OK, though. I have a few little injuries -- my leg's puffed up a bit -- but I'll be all right."

Geogiopoulos, a biology student who is in his third year with the Stingers, came to Canada for a visit four years ago, and never left.

"My brother Odysse had come over here, liked Canada and stayed," he said. "Then I came over for a visit and travelled as far west as Calgary with stops in a lot of places. My brother decided to come to Montreal and go to McGill, so I came here too and enrolled at Concordia. It wasn't long before my sister Connie left Sydney and came over too."

An Australian playing rugby in this country is a little like a Canadian playing ice hockey down under.

"It's true that rugby still doesn't get the respect it deserves in Canada," said Geogiopoulos. "We have a good team at Concordia, though. It was a slow start, but the morale is good."

Gibson says his Australian star is a knowledgeable student of the game. "He has a tremendous sense of space on the rugby field," said Gibson. "He knows where to be, and can anticipate the play. That is something that is tough to teach people.

"Harry is definitely a free spirit," Gibson continued. "He's not great at practising, but when it comes to game time, he's tremendous. He's a very exciting player."

At five foot 10 and 170 pounds, Geogiopoulos is one of the smaller players in the league.

"I'm not a very big guy, but I love the contact," he said. "Rugby is a great team game. The socializing afterwards is a big part of it, too. You get to meet a lot of great people."

Geogiopoulos has no regrets about moving to Canada, although he does miss his parents, friends and the weather back home.

"Sure, I miss people, but my parents come over and visit a lot. I guess they have to, since we're all here! You know, with the exception of the weather and your crazy drivers, it's pretty good.

"There's a great night life and good-looking women. What more could you ask for?"

<! _______________________________________________________________________________>




Copyright 1999 Concordia's Thursday Report.