! CONCORDIA'S THURSDAY REPORT ON-LINE> <! Nov. 4, 99 Issue> <! Site Designede and Developed by: S. Mehrad B.Eng.> <! For comments and problems contact: technical@mehrad.qc.ca> <! http://www.mehrad.qc.ca> <! also:> <! http://www.software-farm.com>



<! ________________________________________________________________________________>
IITS can give students the latest in techno-services
by Jason Derek Tchir
---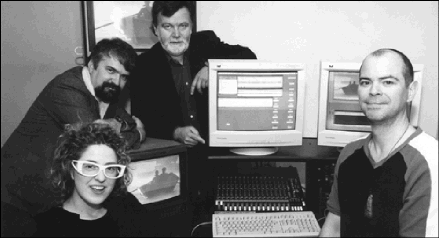 Students and teachers who take the trouble to find the third floor of the Henry F. Hall Building will discover a wealth of technology especially for them.

Roger Tyrrell is manager of both the IITS Media Labs on the mysterious third floor (best accessed from the Mackay St. entrance) and the IITS Sound Studios in the basement of the VA building on RenŽ-LŽvesque Blvd. Tyrrell wants students and faculty to know about the state-of-the-art resources found in both places.

"Usually, students hear about us through word of mouth," said Tyrrell in an interview. "They're usually amazed to find out what we offer."

Besides computers for desktop publishing, computer imaging and Power Point presentations, the Media Lab's facilities include a photo studio, slide duplicator, sound recording studio and industry-standard video transfer and editing equipment. Since the merger of Audio Visual Services with Computing Services to create Information and Instructional Technology Services (IITS) in 1998, the Media Lab has been able to acquire powerful new technology.

In the video lab, Tyrrell is still marvelling at three new, gleaming Macintosh computers that are used to edit digital video. The staff have named them Sun, Moon and Star to tell them apart, and they are still partially covered in the plastic they were shipped in.

"If you had told me a year ago that we would have this kind of equipment, I wouldn't have believed you," he said. "This type of digital video editing station didn't exist a year ago. The technology is now in the hands of the people."

While some of the videos produced on this equipment have won awards at festivals around North America, the facilities are not used only by film and video-production students. The video facilities are used by students in all Faculties, including Fine Arts, Commerce and Administration, and Engineering and Computer Science.

"Video is used for presentation, to teach, and to solve problems," said Dr. Michael Boyce, who runs the video facilities. "Students from all Faculties come in to work with us on their projects. With video and images becoming more and more prevalent on the Web, students are realizing how useful video can be."

Tyrrell and his staff provide more than access to equipment. They train students on the equipment and provide technical support if the students encounter problems. Workshops can be arranged for groups of three or more, and only a nominal fee is charged.

"Our biggest strength is the people working here," Tyrrell said. "We give hands-on support and training. No one else does this to the extent we do. We were all students here once, and some of us teach here. We are familiar with the needs of staff and students -- it's not like we were beamed in from some other place entirely."

Most importantly, said Tyrrell, the Media Labs and Sound Studios are available to all students and faculty. "We are open and we encourage everyone to use our facilities. We also help them find ways to best use what we have to offer."

Photo: Showing off some of their high-tech facilities are IITS's Leslie Farrell and (from left) Roger Kenner, Roger Tyrrell and Dr. Michael Boyce.

<! _______________________________________________________________________________>




Copyright 1999 Concordia's Thursday Report.