! CONCORDIA'S THURSDAY REPORT ON-LINE> <! Nov. 4, 99 Issue> <! Site Designede and Developed by: S. Mehrad B.Eng.> <! For comments and problems contact: technical@mehrad.qc.ca> <! http://www.mehrad.qc.ca> <! also:> <! http://www.software-farm.com>



<! ________________________________________________________________________________>
Undergraduate Awards night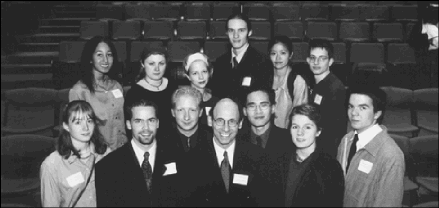 The newly named Oscar Peterson Concert Hall was filled to capacity on October 27 for the presentation of 228 Undergraduate Awards totalling $317,000. Among them were Shuffle Scholarships, given to the deserving students pictured above with Shuffle committee chair Irvin Dudeck.

Many other awards were presented for the first time, and here are just a few:

Lindsay Crysler flew in from his retirement in Halifax to present the first award in his name to Journalism student Miriam Schwartz. Dr. Ed Enos presented an award in his name for athletic excellence to Jessika Audet (Exercise Science).

The Father Stanley Drummond, S.J., Loyola Educational Grant went to Journalism student Vincenzo Carpini, son of Alex Carpini, an enthusiastic alumnus and member of the Board of Governors. Father Drummond, whose teaching career spanned some 50 years, was on hand to present it.

The Concordia University Alumni Association Entrance Scholarship was presented to Elisa Montaruli, a student in Integrative Music Studies, and the 25th Anniversary Scholarship went to Meral Shirazipour (Software Systems).

<! _______________________________________________________________________________>




Copyright 1999 Concordia's Thursday Report.